Talent Attraction and Engagement
We aim to be recognized as a market-leading, attractive, and innovative employer where entrepreneurial spirit, feedback, cooperation, responsibility, and leadership are the norm. Our talent strategy for attracting, recruiting, developing, and engaging talent is a core element supporting our business growth ambitions. I 103-2 I
Reinforcing our talent pool
Recruiting and retaining the best talent is a critical cornerstone to sustaining our ambitious business plan. It enables us to address the staffing challenges we face, such as the competitive labor market, the size of the labor pool, skill shortages in some key domains, and the need to continually rejuvenate our workforce by recruiting young talent. I 103-1 I
Inspiring future talent through ST employees
Our ambition is to create an engaging experience for applicants, from the initial job application right through to the onboarding process.
>320 ambassadors
trained on 'We Speak Social'
In 2021, we strengthened our recruitment communication strategy to enhance our differentiation and increase our visibility as an employer of choice.
We believe that our people are ST's best ambassadors, showcasing our opportunities and promoting ST as a great place to work, during external events such as campus fairs, job dating and conferences, as well as on social media. More than 320 ambassadors undertook our 'We Speak Social' training to help them better understand the power of social media and share their experiences as ST employees.
Sylvain Biard
Digital Design Flows & Methodology Manager, Crolles (France)
Creating close and genuine connections with future talent, via our current employees, is key to inspiring them to join ST. In my role as ST ambassador for Telecom Paris, one of our strategic schools, I promote our jobs and career opportunities, and share my own experience, helping students to picture themselves in our Company. I am also very proud to represent ST at job dating events and help to boost ST's visibility on social media by sharing and liking all our great achievements!"
We also promoted and reinforced our employer branding through the creation of more than 40 short videos of our people discussing their jobs and their story with ST. These videos, focusing on our critical jobs, were published on major social media platforms, career fairs, school campuses and external events. They were also published internally, reinforcing the sense of belonging and pride.
In October 2021, we experimented successfully with an innovative recruitment process to help our Grenoble and Crolles sites (France) address their staffing challenges, with more than 300 positions to fill within six months in multiple job domains. Two job dating events were organized locally, supported by an intensive communication campaign. More than 100 ST employees were involved in presenting our products, our jobs and our working environment, the factors that contribute to a great applicant experience. 60 candidates were hired as a result of the events and more than 60 applications are in progress for 2022.
27
strategic partnerships with universities
We continue to build strategic partnerships with universities and engineering schools throughout the world to ensure a regular flow of candidates, while also establishing education pathways to respond to our specific competence needs. One example is the School of Maintenance for Industry 4.0 initiated by our Agrate site (Italy). At the end of 2021, we had 27 strategic academic partners globally and over 180 sourcing partners.
FOCUS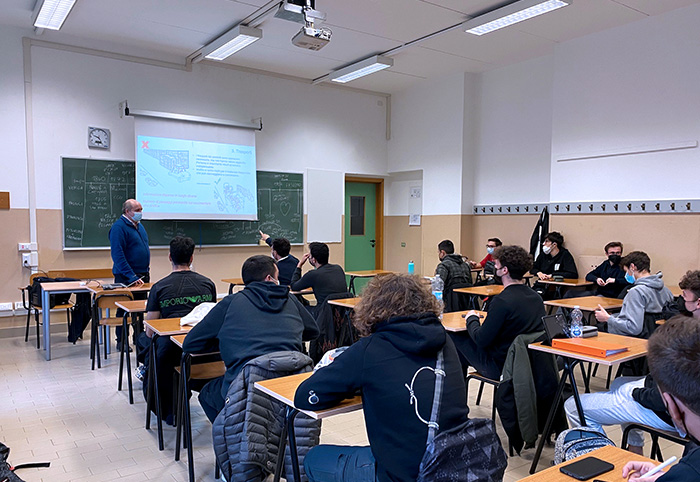 School of Maintenance for Industry 4.0 in Italy
To address the increasing challenges of hiring qualified candidates for the manufacturing maintenance teams at our Agrate site (Italy), a team of maintenance and engineering representatives, led by Human Resources, created a tailor-made post-high school course to prepare future Industry 4.0 maintenance engineers for the microelectronics industry.
Curriculum development began in May 2019, in partnership with the Fondazione ITS Lombardia Meccatronica, to meet the evolving roles and skills of today's maintenance engineers. Each year, around 50 ST employees are involved in this initiative, providing lessons on crucial technical topics, or speaking in seminars to improve students' understanding of what the engineering role entails and how it is evolving in the context of Industry 4.0.
Out of the 50 students enrolled in the program, we welcomed 32 of them at the end of 2021 as ST interns for three months. During their time with us, the students received 400 hours of on-the-job training and 600 hours of classroom teaching. Subsequently, 27 students were offered permanent roles at ST, while the others received at least one job offer, an internship, or an apprenticeship from other companies. A third intake of students started on the program in October 2021.
Following this success, our Catania site (Italy) launched a similar initiative in partnership with a local university.
Developing and supporting our talent pool
Today's employees expect regular feedback, open dialog, and more personal engagement with managers. Providing this requires a new style of management. That is why we have made feedback a fundamental pillar of our managerial culture for several years, to strengthen and continuously develop our talent pool to address future business challenges.
In 2021, we reshaped our Individual Performance Management process to better support our Company's growth and transformation over the next few years. Our new approach values dialog, and fosters employee–manager relationships built on open and continuous feedback and employee development. Among the key major improvements are:
performance evaluation dissociated from performance development, behavior, and career aspirations
continuous feedback to strengthen manager–employee relationships and foster agility in employee development to meet business needs
> 2,500
managers trained in our new performance management approach
To support employees and managers in this evolution, we enhanced our existing training and support material. By the end of 2021, more than 2,500 managers (around 40% of our managerial workforce) had been trained in our new performance approach.
We also created an internal social network for all our managers to help them share questions and best practices regarding the evolution of their roles.
Coaching also helps to spread a feedback culture and is embedded in our managerial ethos. We delivered more than 180 individual coaching sessions and 20 team coaching sessions in 2021 to support the career development of our people and improve organizational performance.
We continued the top management talent review initiated in 2020 to ensure proactive and effective succession plans were in place. This process will be extended to the lower management levels in the coming years.
Average of
42
hours of training per person
In addition, we finalized the implementation of our best-in-class training platform for non-manufacturing employees, allowing us to run courses digitally and perform back-office learning activities more efficiently. To train people faster, more easily and more efficiently, we have diversified our learning offer with more than 320 digital learning options (micro-learning, video-learning) available for more than 25,000 employees. Despite the lasting impact of the pandemic, we delivered an average of 42 hours of learning per person in 2021.
Expressing the full potential of our people
Helping our people to express their full potential by meeting their aspirations is essential to face our current and future business challenges successfully.
ST recognized as a
top employer
in France and Italy
Enhancing the employee experience
We aim to deliver the best employee experience. Our ambition is to offer a quality working life and positive employee well-being, including a safe, creative, collaborative, diverse and inclusive culture, and environment.
The initiatives and measures we put in place helped ST to be certified a 'Top Employer 2022' in France and Italy.
Our 2021 employee survey shows a very positive perception of our initiatives. ST is recommended as a great place to work by 83% of employees, two points up on 2020, and 86% of employees say they are proud to work for ST, one point up on 2020.
At the end of 2021, 48% of our employees were under 40 years old and belonged to 'millennial' and 'zoomer' generations. By 2025, they will represent 75% of our worldwide workforce. We must listen to them to understand how to improve employee experience in order to attract, engage and keep younger people on board.
With this in mind, we launched our 'Blossom for Millennials and Zoomers' program in March 2021 to allow them to voice their opinions, offer their ideas, be creative and share their expectations to make ST an attractive and engaging place to work.
By the end of the year, more than 7,500 'blossomers' were engaged in this community and involved in many projects and initiatives across our regions and organizations.
Maintaining a high level of engagement
Employee feedback is invaluable for monitoring our transformation and organizational changes, helping to improve team cohesion, and individual and collective performance.
Our 2021 employee survey focused once again on individual engagement, goal alignment and organizational agility. It consisted of 62 questions asking employees to assess how well we are doing, and two open questions on what is working well and what needs to be improved. Two categories – Employee Experience and Innovation – were added, illustrating the importance of these topics to our Company.
85%
of employees are willing to go the extra mile
The participation rate was 89%, similar to the 2020 survey. The overall engagement index was 83%, one point higher than 2020 and 13 points above the GEEM norm(1).
85% of employees said they were willing to go the extra mile to help ST meet its goals. This is one point above 2020 and eight points above the GEEM norm(1).
In general, ST outperformed the global norm across almost all benchmarks.
Reward and recognition
Our Compensation and Benefits policy is a critical part of our employee value proposition, supporting our growth and recognizing the contribution of our people.
We implemented two key changes in 2021:
We extended our short-term incentives scheme that rewards operational performance to more than 5,000 employees.
Sustainability objectives are an integral part of our reward strategy. We integrated them into our short-term incentives scheme for around 19,000 eligible employees, focusing on four of our key priorities: safety, climate change, gender diversity and employee engagement. Our Sustainability Index is now one of three performance criteria in the long-term incentive plan for executives.
In November 2021, to recognize their dedication and hard work, our President and CEO announced an exceptional increase in base salary for all employees except executive management.
Despite the challenges of the pandemic, we ran our annual STAR Awards corporate recognition scheme. To better recognize and foster innovation, we redesigned and enhanced the internal patent award process, doubling the number of patents recognized. For the second year running, we organized the corporate STAR ceremony in a digital format and recognized a record number of more than 2,200 employees from 66 sites. Local ceremonies then continued at each site to celebrate those employees who had made outstanding contributions.
Contributing to the Sustainable Development Goals
Our commitments and programs as described above contribute to:
SDG target 4.3 – Ensure equal access for all women and men to affordable and quality technical vocational and tertiary education, including university.
2025 sustainability goal

Status

Comments

SG22: Achieve an employee engagement rate of at least 10 percentage points above local norms in all major countries by 2025.

11 out 13 countries*

| | |
| --- | --- |
| * | China, France, Germany, Italy, Japan, Malaysia, Singapore, South Korea, Switzerland, Taiwan, USA |
(1) GEEM: CultureIQ Global Electronic Equipment/Instruments Manufacturing norm.