Awards 2021 overview
Every year, we receive external recognition for our sustainability approach. Here are some examples from 2021.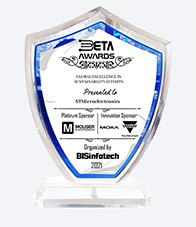 Global excellence in sustainability
At the 2021 BETA Awards organized by BISinfotech, a leading electronics and tech publication in India, ST received four innovation awards and a special award for Global Excellence in Sustainability Efforts. The special award recognized our strong commitment to social responsibility, carbon neutrality, meeting human needs equitably, living within our planet's ecological limits and building a prosperous economy for all.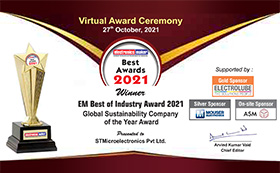 Sustainability leader
ST was named the Global Sustainability Company of the Year at the seventh edition of 'Best of Industry' awards, organized by Electronics Maker in India. The award acknowledges our sustainability approach and establishes a benchmark for companies that are looking to showcase the impact of sustainable business on society and the environment at large.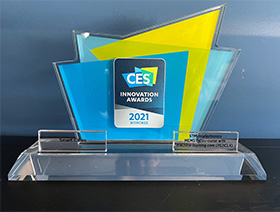 Smart cities innovation award
At the Consumer Electronics Show (CES) in Las Vegas, USA, hosted by the Consumer Technology Association, ST was recognized with an Innovation Award for a product in the smart cities category. The winning product, a MEMS inclinometer with machine-learning core, is a high-accuracy accelerometer which detects a range of movements such as earthquakes, unusual wind patterns, or dangerous structural loadings.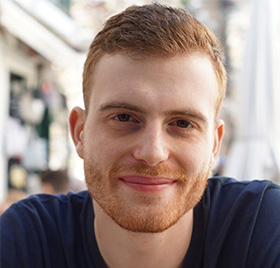 Best industry paper
ST was awarded a prize for the best industrial paper at the 2021 IEEE Radio Frequency Integrated Circuits (RFIC) symposium in Atlanta, USA. The award recognized the work of Guillaume Tochou, a PhD student from ST Crolles (France), and his paper on 'The Human Intranet'. Based on 28nm FD-SOI technology with very low power consumption and excellent efficiency, this project proposes solutions for optimized communication between medical sensors on the human body.
Sustainability innovation award
ST Shenzhen (China) received the 2021 Sustainable Development Innovation Award from the Shenzhen Association for Quality. The award recognized a series of initiatives on the improvement and innovation of people and processes, including automation upgrades and intelligent manufacturing. By developing management systems and applying innovative technologies, the site demonstrated an exceptional increase in productivity, product quality, and reduced energy and water consumption.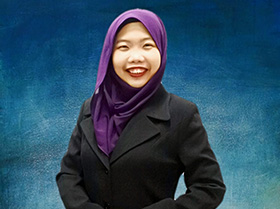 ST outstanding women
Dr Fairoza Amira Binti Hamzah from ST Muar (Malaysia) won the Rising Star title at the Asia Women in ICT Awards. She was recognized for demonstrating outstanding leadership in driving forward Artificial Intelligence (AI) and machine learning adoption in Malaysia. As the creator of Women in AI Malaysia, she has built a 600-member-strong community to nurture AI talent across the country.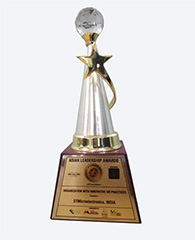 Innovation in HR
ST India received the Asian Leadership Award which recognizes remarkable business leaders and organizations for their continuing commitment to excellence, developing best practices and innovative strategies. To ensure employees are highly engaged with the Company, the Human Resources team in India has been constantly developing partner-focused initiatives. This demonstrates how HR has gone beyond being a support function to become an enabling partner in the business.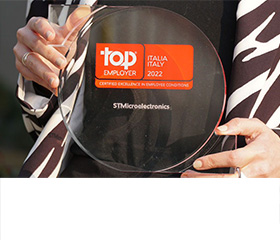 Top employer Italy
ST Italy received Top Employer 2022 certification based on six major HR areas (2021 performance). ST Italy was also recognized as one of Italy's Top 200 Best Employers for Women by the German Institute for Quality Finance. The assessment criteria covered 45 topics, including business culture, professional training, and equal opportunity. Both these awards recognize the importance ST gives to people, the quality of our programs and initiatives for inclusion.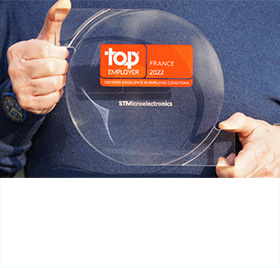 Top employer France
For the second consecutive year, ST was rated as one of the Top Employers 2022 in France (based on 2021 performance). The assessment criteria included our talent management strategy, work environment, training and skills development, well-being at work, and diversity and inclusion. ST France also received the Happy Trainees France 2022 certification, which recognizes our continuous engagement with interns and apprentices.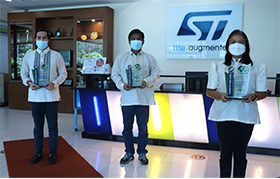 Triple environmental award
At the 12th Biennial Pollution Control Officers (PCO) General Assembly, our Calamba site (the Philippines) won multiple awards for its exemplary efforts in environmental management. The awards recognized a comprehensive program to ensure compliance with environmental laws and regulations, and continuously improve the site's ecological footprint. Robert Portento, ST Environmental Specialist, was a finalist for the PCO award for spearheading the program.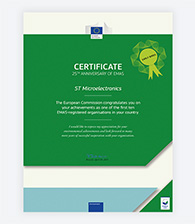 25 years of EMAS
Our Kirkop site (Malta) celebrated 25 years of being certified as an EMAS-registered organization. Having first been granted the certification in 1995, it is one of the first 10 organizations in the country to reach this milestone. EMAS is an EU certification for companies that have integrated an environmental management system into their business.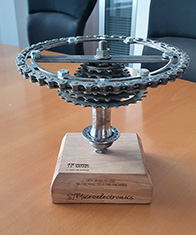 Green mobility hattrick
Three of our sites in France won separate awards for green mobility from their respective local authorities. Our Rennes site received the 'Label Développement Durable', Le Mans won the 'Défi Mobilité' trophy and Grenoble won two recognitions – second prize in the local ranking of 'Aire Grenobloise' and the third prize in the regional ranking 'Metropolises'. These awards demonstrate the sites' commitment and action plans to enable employees to opt for green mobility alternatives, such as public transport and bikes.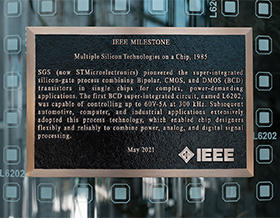 Prestigious IEEE milestone award
In May 2021, ST was honored with the prestigious IEEE milestone for inventing BIPOLAR-CMOS-DMOS (BCD), a family of silicon processes in the area of power management and analog data acquisition. The IEEE Milestones in Electrical Engineering and Computing program honors significant technical achievements. Milestones recognize the technological innovation and excellence for the benefit of humanity found in unique products, services, seminal papers, and patents.