Sustainable Technology
Our unique lifecycle approach since 2011
For more than 10 years, we have applied a product lifecycle approach from responsible sourcing to end of life. This not only reflects our commitment to creating sustainable technology in a sustainable way, but also makes a positive contribution to the world.
The goal of this product stewardship program is to improve the impact of our products throughout the value chain. It allows us to better manage our risks and address business opportunities in fast-growing sustainability markets, such as electric mobility, renewable energy, and smart buildings.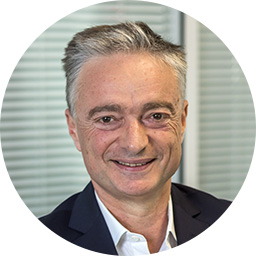 Jean-Louis Champseix
Group Vice President, Corporate Sustainability
At ST, we create technology for a sustainable world in a sustainable way. In a nutshell: creating technology that enables our customers to improve people's lives in many domains such as electric mobility, power and energy efficiency, smart building and healthcare."
Our Sustainable Technology program enables us to classify our products into four categories of 'responsible products' that provide environmental and social benefits.
A product is given a 'responsible product' label when it demonstrates that the use for which it was designed brings social, energy-saving, or environmental benefits. Examples of responsible products are available on www.st.com/responsible-products.
2021 achievements
69%
of new ST products are responsible products
We identified 69% of our new products as responsible in 2021, compared to 63% in 2020. This classification helps us identify and track revenues from our responsible product portfolio. In 2021, the total revenue derived from responsible products increased to 20%, compared to 18.5% in 2020. This is on track for our 2027 target to generate at least 33% of our revenues from our responsible products.
We evaluate our products during the early stages of product design through our project management system. We award each product stars to indicate their value to society: one, two, or three stars according to their level of innovation.
STAR classification for new products in 2021 (%)

I 417-1 I

Social products(1)

Environmental products(2)

★ Incremental improvement to existing offer

33

28

★★ Significant improvement to existing offer

51

29

★★★ New or dramatic improvement to existing offer

16

43

| | |
| --- | --- |
| (1) | Provides new social solutions that improve end-user quality of life (education, medical, health, safety, security of personal information or social solution for developing countries). |
| (2) | Power-efficient or low-carbon products (resulting from eco-design assessment) or products included in end-user applications that contribute to saving energy or resources, environmental preservation (water, chemicals, emissions) or generating renewable energy. |
At the end of 2021, we released our new Sustainable Technology brochure (available on www.st.com). This includes updates on our sustainability programs, such as 2027 Carbon Neutrality and much more.
In support of the ambitions of the European Green Deal, which aims to reduce emissions by at least 55% by 2030 compared to 1990 levels, we used our advanced product lifecycle assessment experience to report on the EU taxonomy requirements. Based on our Sustainable Technology program which allows us to classify products that provide society with environmental and social benefits, we identified our products, technologies and applications that aim at contributing substantially to climate change mitigation. This encompasses all products that aim at substantial GHG emissions savings across their lifecycle in other sectors of the economy. For more information, see EU Taxonomy.
Considering every stage of the product lifecycle
Enabling technologies and eco-design
ST creates advanced semiconductor technologies by offering innovative power electronic solutions based on wide bandgap technologies, such as Silicon Carbide (SiC) and Gallium Nitride (GaN). The main advantages compared to standard silicon substrates are reduced energy consumption, minimized application size and weight.
By keeping eco-design at the heart of our product development, our designers innovate to create:
Low-carbon products: thanks to low resource consumption and the lower number of manufacturing steps required, these products reduce the environmental footprint of our production equipment, utilities, and supply chain.
Power-efficient products: state-of-the-art in reducing electricity consumption and power losses, these products reduce the environmental footprint of the end-devices they are embedded in.
This approach is based on our lifecycle assessment (LCA) methodology developed in accordance with ISO standards 14040 and 14044. Our product management system tracks key indicators to encourage our product development teams to implement green designs wherever possible.
Responsible sourcing
Our responsibility begins with the raw materials and the substances we use to manufacture our products. All our raw materials are sourced in line with the latest environmental and social guidelines, and sustainability criteria are included in our purchasing processes (see Responsible Supply Chain and Responsible Mineral Sourcing).
Low footprint manufacturing
We strive to reduce the impact of our manufacturing activities on natural resources by managing our GHG emissions, reducing our energy, water, and chemical consumption, and recycling waste. We also ensure that our people are safe and treated with respect and dignity. We continuously innovate and improve our processes in accordance with environmental, social, and ethical standards.
Use
Our components and technologies help end users to reduce their impact on the environment. Reducing the power consumption of electronic devices is a major feature of our portfolio, helping to reduce our environmental footprint year after year. The benefits our products deliver during use, also referred to as the 'handprint' of our products, are not only about improved power-efficiency, they are also amplified by our focus on specific market segments that are helping to solve environmental and social challenges (see Paving the way to sustainable applications section, below).
End of life anticipation
96%
of our products exceed RoHS directives
We are committed to ensuring our products meet or exceed applicable environmental requirements such as REACH(1), RoHS(2) and HSPM(3) (see Chemicals). ECOPACK processes and classification help us monitor the substances used in our products, which in turn facilitates end of life and recycling when our devices are disposed of. By the end of 2021, 96% of ST products exceeded RoHS directives and were rated ECOPACK2 or ECOPACK3.
Paving the way to sustainable applications
Environmental applications
Enabling the transition to planet-friendly alternatives, these semiconductor solutions help customers to deploy smart and environmentally friendly applications.
Electric mobility: by enabling large-scale vehicle electrification, as well as the supporting infrastructure that makes it possible, ST contributes to the shift from traditional vehicles to smarter, greener mobility solutions.
Power solutions for renewable energy or smart grids: we contribute to the transition to greener energy sources with high-efficiency and low-power consumption components. These allow for low-loss energy conversion in solar panels, wind turbines and smart grids using wide bandgap semiconductor technologies. We also provide smart grid solutions, such as smart meters enabling energy utilities to manage their supply and demand, and allowing consumers to view their energy consumption in real time.
Smart building, farming and industry: our products are used in a wide range of applications, supporting the evolution of industries to make factories and workplaces more intelligent, safer and more efficient. We provide devices to monitor, optimize, and clean gas emissions from any kind of motor engine, to measure air pollution in cities, and to purify the air. We also offer a large product portfolio for energy monitoring and control in homes, buildings, and industrial facilities. The ability of our products and technologies to be more connected with their environment has been particularly instrumental in the agriculture industry.
FOCUS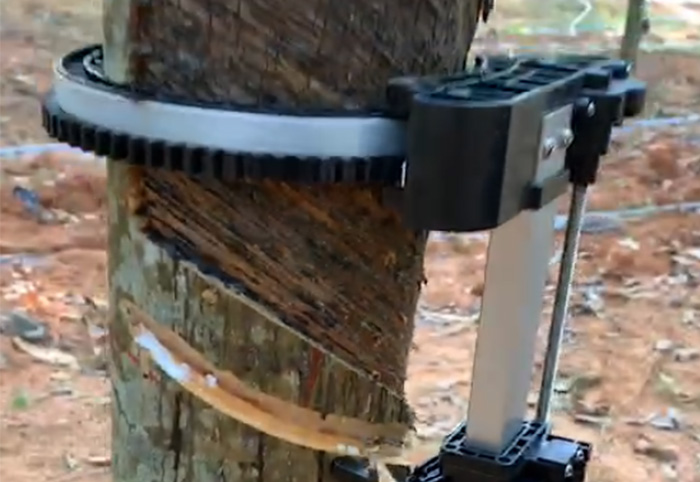 Contributing to smart farming with revolutionary technology
ST's unique product portfolio plays an important role in increasing agricultural productivity by leveraging our expertise in smart products and IoT technologies. STM32WLE5, the world's first Long Range System-on-Chip (LoRa® SoC), has revolutionized the automation of extracting rubber from trees. Our microcontroller, micro-stepping motor controller and integrated low-dropout voltage regulator help provide more sustainable and resource-efficient agricultural production.
The fully automatic and intelligent harvesting robots are easy to use, with no rubber tapping skills required, thus helping alleviate chronic labor challenges. Compared with the traditional Jabong tapping knife, using these rubber tapping machines has several advantages:
improved rubber tapping productivity
superior latex yield per tree
protection against bark injury
bark consumption regulation
multiple environmental sensors for weather monitoring
extension of the economic life of rubber plantations
lower risk of injury to workers
Bridging modern communication and sensing technologies with the most advanced data analytics, smart farming aims to deliver agricultural production that is more sustainable and resource efficient.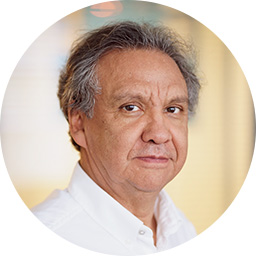 Mario Diaznava
Cooperative R&D Programs Manager, Grenoble (France)
Smart agriculture optimizes resource consumption and preserves the environment by, for instance, preventing the unnecessary use of pesticides. As part of the Internet of Food & Farm project (IOF2020), I have been leading a project for remote monitoring of the vineyards of a renowned estate in the Bordeaux area (France). IoT devices based on STM32 microcontrollers and a #LoRa (Long Range) network have been deployed to collect environmental data, optimize resource consumption, improve vineyard yield and enhance wine quality."
Human welfare applications
Our semiconductor solutions that provide social benefits enable our customers to create applications for their clients, helping people lead safer and healthier lives.
ST devices helping in the fight against
COVID-19
Medical/Healthcare: our solutions support medical companies in developing innovative healthcare technologies, such as ultrasound imaging systems, and pacemakers. Embedded in electronic equipment, our sensors, microcontrollers, connectivity solutions and specialized ICs have been instrumental in the fight against the COVID-19 pandemic, enabling the design of virus testing kits, rapid testers, breathing ventilators, and social distancing applications.
Safety: our solutions help customers design systems and products that reduce accidents on the road, in our homes, cities, factories and workplaces. We also support the development of passive (ABS(4), LED lighting) and active (ADAS(5), pedestrian detection, driver somnolence detection) safety systems in cars. Our wide range of sensors and galvanically isolated components make industrial systems safer.
Security: our solutions enable secure payment and authentication in a wide range of IoT devices, to protect privacy and assets by ensuring their confidentiality and integrity. In addition, our product portfolio includes a series of secure devices which, when embedded in connected systems such as alarms and smart door locks, protect against domestic robberies and car theft.
| | | |
| --- | --- | --- |
| 2027 sustainability goal | Status | Comments |
| SG2: Generate at least 33% of our revenues from our Sustainable Technology's most advanced responsible products by 2027. | | 20% |
(1) REACH: Registration, Evaluation, Authorization and Restriction of Chemicals.
(2) RoHS: Restriction of Hazardous Substances.
(3) HSPM: Hazardous Substance Process Management.
(4) Anti-lock Braking System.
(5) Advanced Driver-Assistance Systems