Sustainability strategy
Sustainability has been embedded in our business model and culture for over 25 years. It is integrated in our activities across the whole organization and beyond, as we consider our impact, positive or negative, on our stakeholders, society, and the planet. Providing transparency and clarity to all our stakeholders is a key component of our sustainability strategy and this year, we are publishing our 25th sustainability report.
Our commitment and goals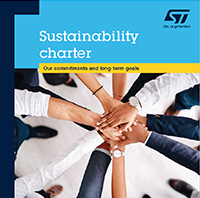 Sustainability at ST means:
creating technology that enables our customers to create sustainable solutions to improve people's lives
prioritizing people and the planet, minimizing our overall footprint​
creating long-term value for stakeholders, shareholders, and partners
Our guiding principles and our sustainability goals for 2021–2027 are described in our sustainability charter, available on www.st.com, and endorsed by Jean-Marc Chery, our President and CEO. They apply to all our sites and cover all our processes, from design to production, and from sourcing to disposal of materials. Our sustainability programs and progress towards our sustainability goals are described throughout this report. I 102-46 I
Sustainability incentives for
19,000
employees
To support our sustainability ambitions, we integrate specific sustainability objectives into the compensation schemes of our senior executives and employees eligible for short-term incentives. These focus on safety, carbon neutrality, gender diversity, employee engagement and external sustainability ratings (see Talent Attraction and Engagement).
As part of our plan to accelerate sustainability and involve our stakeholders in our sustainability strategy, we developed a sustainability messaging platform in 2021 and ran workshops to train our top management and communication teams on how to engage with internal and external stakeholders on sustainability topics. These workshops will continue in 2022.
Focusing on what really matters
We base our sustainability strategy on preventing negative impacts, seizing opportunities and generating value for all. To ensure we focus on what really matters, we conduct a comprehensive materiality review every three years. We performed our most recent comprehensive materiality exercise in 2020. We analyzed the global sustainability context, emerging topics, and the role of our industry in identifying our material impacts, risks and opportunities. To assess the importance of each topic and its impact on value, we consulted more than 300 stakeholders, as well as our executive management team. I 102-43 I
To verify we are still focusing on what is material for ST and our stakeholders, in 2021 we performed a review based on external trends, and gathered feedback from our sustainability experts. The outputs are included in the materiality matrix below. For each material issue, we have long-term goals. I 103-1 I
Click on a focus area to see the relevant material topics
Overview
Governance
Business
People
Environment
Communities
No Priority*
*Not a strategic priority but some programs in place
Interview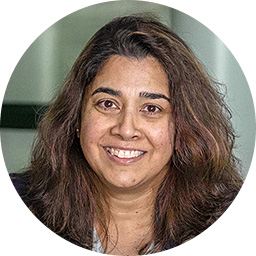 Rajita D'Souza
President, Human Resources and Corporate Social Responsibility
You joined ST at the beginning of 2021. What is your impression of sustainability in ST?
ST has a longstanding commitment to sustainability and social responsibility that dates back to the 1990s. I was impressed with the level of maturity on these topics and how well they are integrated into the business operations.
Sustainability is a continuous journey. Increasing interest from stakeholders is confirming our strategy, while also creating the conditions for acceleration. How we conduct our business is just as important as what we do, and sustainability must be an integral part of our value proposition. This is reflected in our Sustainability Charter that we released during 2021.
What 2021 achievements are you most proud of?
The health and safety of our employees is a top priority at ST. In 2021, we achieved our best-ever safety performance, with an employee recordable injuries case rate of just 0.12, among the best-in-class. This great performance is the result of many years of work by the environment, health and safety (EHS) teams at our sites all over the world, on preventative actions in particular.
I am also proud of the high level of engagement shown by employees throughout ST, with 85% of employees willing to go the extra mile to help ST meet its goals, and 86% saying they are proud to work for ST.
We are progressing well towards our carbon neutrality goal for 2027, reducing our total greenhouse gas emissions by 34% over the last three years. All our sites are united in this effort – a level of engagement that is reflected in our ST survey results, where 85% of employees agreed that 'My company is taking action to protect the environment'.
Finally, all our sustainability efforts and initiatives have been recognized by the Dow Jones Sustainability Index, with our inclusion in both World and Europe indices.
What sustainability trends do you foresee for 2022?
One of the major trends is an increase in the sustainability regulations that are emerging all over the world, such as the EU taxonomy, the evolution of reporting standards, and due diligence processes. This will level the playing field and help more businesses operate responsibly. It will also increase transparency and allow stakeholders to make more informed decisions.
Every year, we review our materiality based on stakeholder feedback and external trends to anticipate changes and ensure we stay aligned with stakeholder expectations. In 2022, we expect similar trends to recent years, with clear prioritization of health and safety, GHG emissions, and ethics. We see some topics gaining importance, like business continuity, energy efficiency, talent attraction and retention, and responsible products. We will maintain our leadership in these areas and continue our progress towards our long-term public goals, including water recycling, waste recycling, and diversity, equity, and inclusion.