Innovation
As one of the world's largest semiconductor companies, ST is a technology company driven by innovation. Our technology developments are guided by the long-term market trends, enabling or enhancing applications for the end-user by turning state-of-the-art chip fabrication technologies into cutting-edge commercial products. I 103-1 I
To support innovation, we invested US$1.72 billion in research and development (R&D) in 2021, representing 13.5% of our net revenues.
Leading edge technology
US$1.72 billion
invested in R&D
The focus of our innovation (see www.st.com/innnovation) and the evolution of our technology stems from long-term trends reshaping industries and societies, alongside the need to support a more sustainable world. The three main trends we focus on are: Smart Mobility, Power and Energy Management, and the Internet of Things (IoT) and 5G.
Process technology
Thanks to our wide portfolio of patents and strong pipeline of innovation, we are one of the few semiconductor companies mastering a very broad range of chip manufacturing technologies. See more details about our technologies on our website at Semiconductor manufacturing process technologies.
In collaboration with the Important Projects of Common European Interest (IPCEI) for Microelectronics program, we achieved major advances in cutting-edge technologies in 2021. These include:
The qualification of new digital microcontroller technologies and the introduction of a completely new type of memory – fast, robust, and energy efficient – known as embedded Phase Change Memory (e-PCM)
The demonstration of Gallium Nitride (GaN) technology for power electronics, providing unrivaled energy efficiency and power density. The qualification of a Power GaN manufacturing pilot line was initiated at our Tours site (France).
The manufacture of our first 200mm SiC bulk wafers for prototyping next-generation power devices at our facility in Norrköping, Sweden.
Also, we received the prestigious IEEE milestone award for inventing BIPOLAR-CMOS-DMOS (BCD), a family of silicon processes in the area of power management and analog data acquisition.
Application technology
Acquisition of
Cartesiam,
a specialist AI software company
Through our IPCEI collaboration, we further developed the performance and versatility of optical sensors, increasing the perception of connected objects.
We are leaders in Micro Electro-Mechanical Systems (MEMS) technologies. We have demonstrated our expertise in developing sensors and actuators over several decades, enabling us to develop augmented reality solutions.
FOCUS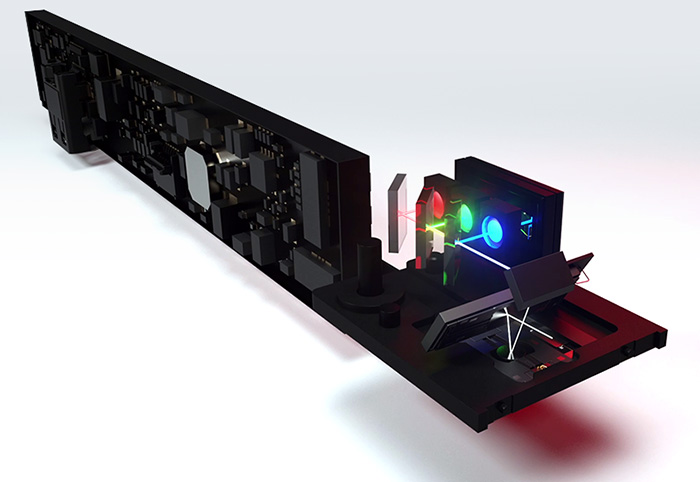 Enabling fast development of augmented reality (AR) glasses
As a leader in MEMS technologies, we have industrialized MEMS actuators based on thermal, electrostatic, electromagnetic, and piezoelectric devices. Building on this experience, ST and other leading technology developers and manufacturers joined forces in the LaSAR Alliance to accelerate AR smart glasses solutions.
The Alliance is focused on meeting the technical challenges required for all-day wearable smart glasses. It has created an ecosystem that includes companies developing technologies, components, and solutions based on laser beam scanning to provide augmented reality and mixed reality device manufacturers with the key foundational elements.
At Consumer Electronics Show in January 2021, we unveiled proof-of-concept smart glasses based on our first-generation MEMS ScanAR reference platform. This demonstrated the capability of ST and several of the LaSAR Alliance partners to provide a complete solution for AR eyewear applications.
In 2021, to strengthen the artificial intelligence (AI) solutions we offer, we acquired Cartesiam, an edge AI software company enabling faster machine learning project development for connected devices and industrial equipment. These technologies, which are particularly relevant for the predictive maintenance market among others, strengthen our position in several markets. The NanoEdge AI Studio tool brings additional value to our customers with its privacy-oriented process (no cloud processing of customer data) and its easy implementation, enabling customers to work on projects without the need for a highly specialized data science team.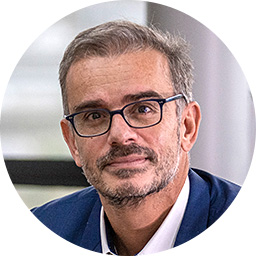 Remi El-Ouazzane
President Microcontrollers & Digital ICs Group
If the previous decade was defined by the 'Internet of Things', the current decade will be the one of 'Autonomous Things'. Many billions of smart devices are being introduced into our homes, offices, warehouses, stores, factories, cars, and hospitals. Artificial intelligence (AI) is the cement that will enable this era of 'smart-everything'. Our goal at ST is to make AI pervasive across our hardware portfolio, catering to the various needs of developers through both low-code approaches like our NanoEdge AI Studio, and open toolkit environments like STM32Cube.AI; enabling a world where ambient intelligence eventually becomes the norm, be it for anomaly detection in a photovoltaic inverter or automated pods classification in a coffee machine. The opportunities are boundless."
Innovation ecosystem
Our innovation capability is enhanced by the ST Innovation Office. Their mission is to create more external and internal innovation opportunities through an ecosystem that connects emerging market trends with our internal technology expertise (see www.st.com/innovation). I 103-1 I 103-2 I
External scouting for technology
187
active R&D partnerships
Recognizing the importance of partnerships in the innovation process, we build strategic alliances, engage in bilateral research cooperation, and participate in standardization groups. Overall, we were involved in 187 active R&D partnerships in 2021. I 103-3 I
One of our main programs, the IPCEI for Microelectronics program, gathers the most important European players in microelectronics to cooperate and innovate to serve the IoT, space, smart mobility, and security markets. Since its launch in 2018, it has involved 65 partners and 97 projects.
In 2021, we expanded our common R&D infrastructure at the PoliFab Micro- and Nanotechnology Center. This investment aims to boost our joint efforts with Politecnico di Milano in MEMS and motion control, as well as in power electronics and galvanic isolation.
We also joined new external partnerships that bring together industry leaders from along the value chain to accelerate innovation in the automotive and industrial sectors and diversify our scouting process in the smart mobility sector.
Software République – a consortium of six industry leaders (Atos, Dassault Systèmes, Orange, Renault Group, ST and Thales) that aims to create a European collaborative ecosystem enabling secure and sustainable mobility.
IoT Continuum – bringing together leading IoT players to accelerate the pervasion of end-to-end IoT solutions.
Anchor partner of Startup Autobahn in Germany and Motor Valley Accelerator programs in Italy. These programs are powering innovation in the automotive sector by introducing selected young companies to established technology corporations. Both programs are created and managed by Plug and Play, the well-known Silicon Valley accelerator.
The startup ecosystem
50 startups
engaged in our programs
Our Innovation Office is developing initiatives to create deeper and forward-looking relationships with several players in the startup world. There were 50 startups involved in our programs in 2021.
Our strategy to foster innovation within our startup ecosystem is based on three main programs aligned to the different stages of startup evolution:
Proof-of-Concept (PoC) Centers: we provide support to small and medium-sized enterprises in the early stages to speed up their proof-of-concept phase, through co-working spaces at 15 PoC centers.
Startup Entrepreneurship Program: tailored incubation services, including hosting, technical support, and mentoring to help commercialize designs by hosted startups. Since its inception, more than 50 startups have been incubated in France and India through this program, with 18 startups engaged in 2021.
ST-Up accelerator program: hardware and technology startups are supported through an 18-month, five-step process. Launched in 2018 in Israel, the program was extended to France and Italy in 2021 and now has nine active engagements in these three countries.
These programs work closely together and are complemented by an ecosystem of cooperation with selected incubators and accelerators worldwide. In addition, our ST Partner program provides endorsement and visibility to successful startups from any of these initiatives.
Thanks to these partnerships, we explore new sustainable solutions and enable responsible applications for safer, greener, and smarter living (see Sustainable Technology).
Internal technology expertise
~8,400
employees dedicated to R&D and product design
Around 8,400 ST employees work in R&D and design. This includes around 780 technical staff who are recognized for their advanced expertise.
This community drives our most advanced innovations, enabling us to develop new technologies and helping to foster R&D partnerships with prestigious universities and partners worldwide.
Our expertise is recognized externally through our involvement and contribution at key scientific conferences.
Our sites around the world are helping to nurture the entrepreneurial spirit of our employees through local innovation labs and hubs that help to connect our technical experts within local ecosystems. We now have nine labs, with one new lab opened in 2021: the STAR Lab at our Tours site (France).
Contributing to the Sustainable Development Goals
Our commitments and programs as described above contribute to:
SDG target 9.5 – Enhance scientific research, upgrade the technological capabilities of industrial sectors, and increase private research and development spending
| | | |
| --- | --- | --- |
| 2025 sustainability goal | Status | Comments |
| SG1: Generate at least 20% of our revenues from new product lines by 2025. | | 13% |