Chemicals
Responsibly managing the chemical substances and materials used in our operations is critical for protecting people, preserving the environment, and complying with legal and customer requirements. I 103-1 I
Applying a rigorous approach
To prevent any potential negative impacts of the chemicals and materials used in our operations, we take a precautionary approach when assessing new processes, chemicals, and products, as set out in Principle 15 of the Rio Declaration. I 102-11 I
For all hazards identified at each ST site, the chemical committee evaluates the best management solutions, both for new processes and modification of existing processes. The site chemical committee meets regularly to discuss and review all decisions on chemical usage and handling by evaluating chemical compositions, hazards, use conditions, medical recommendations, and industrial hygiene requirements. This includes risk management measures, personal protective equipment (PPE), waste management and administrative controls. By rigorously applying this process, we are able to identify critical substances as soon as they are introduced or reclassified. I 102-11 I 103-2 I
>700
new risk assessments
In 2021, we recorded 5,492 chemicals in use, and we conducted more than 700 new risk assessments, achieving more than 30,000 validated risk assessments by the end of the year. I 103-3 I
We apply the hierarchy of control approach in our chemicals management procedures. When specific chemicals or materials cannot be eliminated or substituted with less hazardous alternatives, we implement engineering measures to reduce workers' and environmental exposure.
Typically, we install fully closed distribution systems in our manufacturing processes to deliver chemicals at the final equipment point of use, preventing accidental releases by design. For example, to further protect our people from hazards and to reduce potential accidental leakages, our Ang Mo Kio site (Singapore) innovated by developing a track autofill system and centralized distribution system for a chemical used in the surface treatment of wafers (Hexamethyldisilazane). Completed at the end of 2021 and installed on 33 pieces of equipment, this project reduced potential exposure and the risk of accidents, while improving productivity by eliminating equipment stops for manual refills.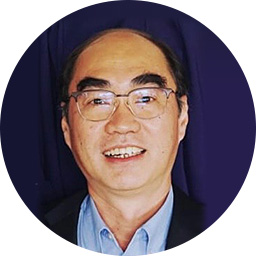 Ken Leong
Head of Department, Photolithography, Ang Mo Kio (Singapore)
Our technicians are potentially exposed to Hexamethyldisilazane (HMDS) chemicals every day when performing manual chemical top ups, and this can be hazardous to their health. By deploying an HMDS chemical distribution system with full interlock protection, we have greatly reduced the risk of exposure to such chemicals. The team explored various options and finally we made it happen. This demonstrates our commitment to building a safe working environment for all our employees."
All types of equipment using chemicals are connected to centralized exhaust systems. Separate drains ensure all emissions (air and water) are treated to minimize environmental releases. Additional temporary exhaust mechanisms are provided during specific maintenance operations, while preliminary checks and cleaning operations are conducted before opening equipment or before workers are authorized to enter confined spaces.
FOCUS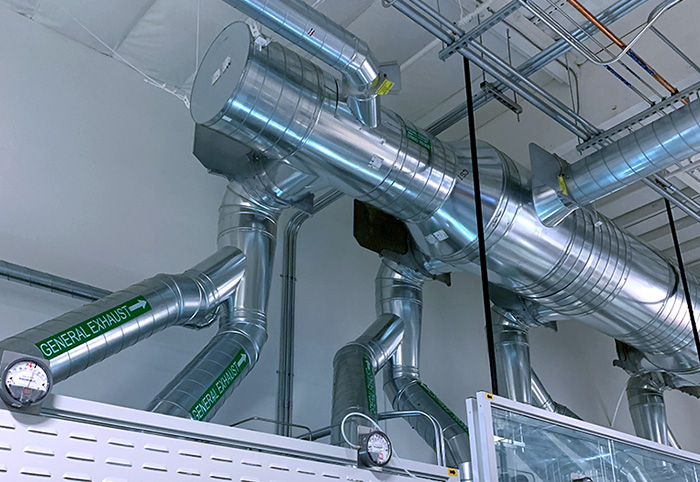 A best-in-class chemical lab
Our Fremont Lab (USA) develops new imaging products using quantum film technology. A new facility constructed at the lab was designed to include the most advanced systems to protect employees and the environment.
The facility features:
a modern fire control system
building ventilation with activated carbon scrubbers
automated chemical waste consolidation and handling systems
enclosed chemical handling and distribution to point of use
substantial secondary containment systems
leak detection systems
uninterruptable power supply to ensure safe shutdown during power outages
During commissioning, the lab management collaborated with corporate environment, health and safety (EHS) to review the chemical hazards in detail, and ensure that employee safety and environmental exposure were addressed as a priority.
The result is a facility in which this new technology will blossom and in which the safety of employees and the environment is ensured, while also being above local air quality mandates.
Rigorous administrative controls and procedures are in place to avoid unintentional spills and releases. At many ST sites, specific emergency protocols are agreed with local authorities. In cases of abatement systems (exhaust systems to treat gases) malfunction, the site has the authority to stop the relevant production lines to avoid uncontrolled environmental releases.
Protecting our workers
We apply specific medical surveillance to workers based on potential exposure to chemicals, including biomonitoring – assessing human exposure to natural and synthetic chemicals, based on an individual's tissues, and fluids sampling and analysis. Moreover, to verify that the applied risk management measures are effective, we conduct regular analytical checks on the working environmental air. The results are compared to applicable threshold limit values (TLV). In 2021, the 22,501 measurements we performed worldwide were all below the applicable TLVs.
15,000
hours of training on chemicals
Workers are trained before being assigned to potentially hazardous tasks, and before implementing new process changes. Training is refreshed and updated regularly. In 2021, we provided more than 15,000 hours of training on chemicals management at our manufacturing sites.
Workers are trained to:
identify specific hazards
recognize and understand chemical labels
apply management methods
select and wear the required PPE
be ready to react in case of contamination, contact, or an emergency
ensure preventive maintenance
properly dispose of spent chemicals according to waste management practices
Preserving the environment
We take particular care to identify ways to reduce environmental emissions in all three domains: air, water, and waste. As such, we treat our emissions (see Water and Waste), and we enforce replacement programs for hazardous substances to remove potential unwanted release all along our value chain. Volatile organic compounds (VOCs) are compounds that easily become gases or vapor, some of which may have adverse effects on human health and the environment. We pay specific attention to the control of VOC emissions and make sure our installations work properly with online monitoring. At our Crolles site (France), after installing new burners, VOC emissions decreased by 42% in 2021 compared to 2020.
Replacing hazardous substances
We seek to find the best solution among all available technologies and use innovation to replace hazardous materials in our manufacturing processes.
Finalizing the Di-ethylhexyl phthalate (DEHP) replacement program
DEHP, present in plastic tapes, is used in the assembly process at our back-end sites. Replacing DEHP in tapes is important for our upstream supply chain and to reduce the hazardous substances in waste, thereby increasing our ability to recycle the waste we generate.
The program started in 2012 when DEHP was first added to Reach Annex XIV, which meant it could no longer be used in Europe for tape manufacturing. Starting in 2013, we ensured that all products shipped to Europe were compliant. Furthermore, we decided to go beyond the regulation and become DEHP-free for all our products worldwide. In 2021, our sites of Kirkop (Malta) and Shenzhen (China) completed the substitution of DEHP, while our Muar site (Malaysia) will finalize its substitution in 2022.
Removing perfluorooctanoic acid (PFOA)-related substances
In 2021, we continued to work on the phase-out of PFOA-related substances. These are used in the photolithography process of front-end manufacturing for their resist-spreading properties. During the year, our Rousset site (France) won a CEO award at the annual ST recognition awards (STAR) for the complete eradication of PFOA-related substances in its operations by the end of 2020. The project was successfully implemented without disrupting the supply chain, while improving process quality and equipment efficiency.
By the end of 2021, only a few process flows remained to be modified at our Crolles site (France) and we expect the process to be completed in the first half of 2022. With a total replacement accomplishment of 97%, we are on target to reach our objective of being 100% PFOA-free by 2025, in line with the World Semiconductor Council statement and European Union regulation.
Substituting chemicals to ensure continuity of activities
During 2021, our Crolles site (France) managed to replace a chemical containing a Substance of Very High Concern (SVHC) under REACH(1) annex XIV, used in a manufacturing process chemical. The site chemical committee validated the replacement chemical, reducing the site's exposure to potential future use restrictions and ensuring manufacturing continuity.
Our Rennes site (France) made a similar breakthrough for the replacement of an SVHC-containing adhesive used to attach dies. In 2021, after 10 years of qualification tests and poor results using alternative materials available on the market, the site decided to develop its own products, according to its own specifications. As a result, two new materials were qualified.
Aligning with stakeholders' expectations
As a member of the Responsible Business Alliance (RBA), ST has embraced its updated chemical policy (available on the RBA website) and will focus on the Industry Focus Process Chemical List (IFPCL). An initial analysis confirmed that almost all the chemicals listed in IFPCL have not been used in ST operations for several years. In 2022, we will complete this assessment throughout our direct supply chain.
Customers
Transparency is essential in our relationship with our customers. They monitor our chemicals management practices and request the disclosure of substances contained in the products we sell to them. This information is available on www.st.com, in the IPC 1752 material declaration.
We have been working on the deployment of Hazardous Substance Process Management (HSPM) to identify, control, quantify, and report any hazardous elements in components, according to the IECQ080000 standard. As part of this, we have collaborated with several customers by sharing information on substances used in the manufacturing processes of products we supply to them. In 2021, we participated in the Clean Electronics Production Network (CEPN) initiative and completed the Process Chemical Data Collection. This was an opportunity to share and describe the chemical management system we use.
Compliance
We follow the highest standards to ensure compliance with applicable regulations on chemicals, for our manufacturing sites and our products. We apply hazardous substances process management (IECQ080000) to all the materials we purchase for manufacturing. In 2021, all employees involved in this process received third-party training.
We ensure products comply with applicable requirements such as RoHS(2) and ELV(3) by selecting only compliant materials when starting the R&D process. Furthermore, we strive to eliminate the use of restricted substances by design. Thanks to new designs, reduced dimensions and the lower energy consumption of our chips, we succeed year after year in decreasing the use of lead (Pb) in the assembly process (see our ECOPACK results). We also continue to identify new materials with reduced antimony and halogen content.
ST products may be subject to Substances of Concern In Products (SCIP) declarations, based on the presence of SVHCs. To ensure information is available for the safe end-of-life disposal of our products, in 2021 we continued to declare new products in the ECHA portal.
Suppliers
We require our suppliers to respect our EHS-regulated substances list, which contains more than 3,300 substances and is regularly reviewed. We also require them to confirm their compliance through analytical certificates, safety datasheets and commitments.
We compare all new chemical and material compositions to our EHS-regulated substances list to ensure current safety compliance and anticipate future regulatory changes.
Contributing to the Sustainable Development Goals
Our commitments and programs as described above contribute to:
SDG target 3.9 – Substantially reduce the number of deaths and illnesses from hazardous chemicals and air, water and soil pollution and contamination.
SDG target 6.3 – Improve water quality by reducing pollution, eliminating dumping and minimizing release of hazardous chemicals and materials, halving the proportion of untreated wastewater and substantially increasing recycling and safe reuse globally.
SDG target 12.4 – Achieve the environmentally sound management of chemicals and all wastes throughout their lifecycle, in accordance with agreed international frameworks, and significantly reduce their release to air, water and soil in order to minimize their adverse impacts on human health and the environment.
| | | |
| --- | --- | --- |
| 2025 sustainability goal | Status | Comments |
| In line with the WSC statement, remove PFOA and PFOA‑related substances in all manufacturing chemicals by 2025 | | 97% |
(1) REACH: Registration, Evaluation, Authorization and Restriction of Chemicals.
(2) RoHS: Restriction of Hazardous Substances.
(3) ELV: End of Life of Vehicles.