Foreword by our President and CEO
This is our 25th report, signifying that sustainability has been central to ST's business model and culture for as many years. While I am proud to say we have been pioneers and achieved strong results across all key sustainability metrics during this time, we are determined to continue to do more and to accelerate our efforts.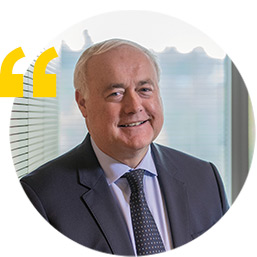 2021 was a year that continued to be impacted by the pandemic and semiconductor supply chain constraints across all end markets. ST's 48,000 employees worked closely with our customers, partners, and suppliers to protect both the short- and long-term, increase the resilience of our manufacturing operations, and create innovative products. Their sustained high level of engagement, despite the personal and professional constraints they faced, was remarkable. ST continued to support our employees across the globe ensuring the most stringent health and safety measures in every site where we operate.
The execution of our business strategy, now in its third year, stems from three long-term, transformational trends: the shift to smart mobility, improved power and energy management and the large-scale deployment of IoT & 5G. In 2020, we saw an acceleration of these three trends that continued into 2021. Our strategy drives our investments and roadmap decisions, which allow us to support our customers as they address technical, environmental and social opportunities and challenges. This paves the way to long-term sustainable and profitable growth for ST, and enables us to create sustained value for shareholders, for customers, for all our stakeholders globally and, more broadly, for society.
Providing innovative and sustainable solutions to our customers implies being an integrated device manufacturer mastering the entire semiconductor value chain: responsibly sourcing raw materials, investing in technology and product R&D for innovation, ensuring reliable and secure manufacturing, and relentlessly pursuing product quality. In 2021, we continued to progress with our strategic programs based on Silicon Carbide and Gallium Nitride, and with the development of the 300mm fab in Agrate (Italy). We continued to invest in R&D and open innovation with a network now including 187 active academic and private partnerships worldwide to build the future. We continued to improve our social and environmental footprint at every stage of the product lifecycle, with 69% of new products identified as responsible and 20% of total revenue derived from responsible products.
The pandemic has accelerated the transformation of our professional and private lives. This is also true for our industry's future employees. The semiconductor industry is now better understood by the public as a strategic enabler of all our end-markets and a fast-moving, fast-growing industry. However, we face mid- and long-term recruitment challenges including talent attraction, retention, and diversity on a larger scale than before, in an environment where competition for talent has sharpened. In 2021, we started a major program to address this multi-year challenge: we reinforced our network of strategic academic partnerships, supported focused STEM promotion initiatives, and reinforced the presence of women in all management levels.
In December 2020, we committed to become carbon neutral by 2027. To achieve this ambitious target, we have built a comprehensive program looking at all aspects of our business and operations. Progress made in 2021 includes the reduction of our greenhouse gas emissions by 34% compared to 2018 despite the continued expansion of our manufacturing footprint, as well as the increase of renewable energies in the total energy mix we source from 40% to 46%.
Our continued efforts across many areas, detailed in this report, were recognized again in 2021, including our presence in the DJSI World and Europe indexes as well as in other key ESG rankings and international certifications. These external recognitions are important for us to confirm our actions and transparency, and inspire confidence to achieve our ambitious sustainability objectives going forward.
Jean-Marc Chery
President and CEO
l 102-14 l