Ethics and Compliance
Putting respect, accountability, and integrity at the core of our decision-making process is vital to support our ambition, create value and earn the trust of our stakeholders. These values are some of our most important assets and an integral part of our long-term strategy. I 102-16 I
Our vision speaks for itself: we want to be everywhere microelectronics brings a positive contribution to people's lives. We must reflect this in everything we do. We believe ethics and compliance are everyone's job and responsibility, and that conducting our business with the highest ethical standards is critical to our long-term success.
Code of Conduct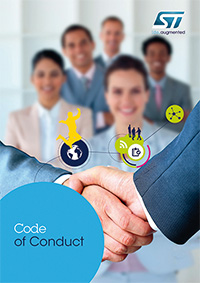 Our Code of Conduct is all about our values, which are shared throughout the Company. It sets clear expectations for our employees and other stakeholders, helps to foster a culture of integrity, and provides practical guidance on the way we conduct our business and make our decisions.
Integrity: we conduct our business with the highest ethical standards, honor our commitments, and keep our promises; we are loyal and fair and stand up for what is right.
People: we behave with openness, trust, and simplicity; we are ready to share our knowledge, encourage everyone's contribution, develop our people through empowerment, teamwork, and training; every one of us is committed and personally involved in the continuous improvement process.
Excellence: we strive for quality and customer satisfaction and create value for all our partners; we are flexible, encourage innovation, develop our competencies, seek responsibility and are accountable for our actions; we act with discipline, base our decisions on facts, and focus on the priorities.
Our Code of Conduct is distributed to all our employees, including newcomers. It is available in 10 languages on our website (see www.st.com/code_of_conduct ), our intranet and our ST Integrity app.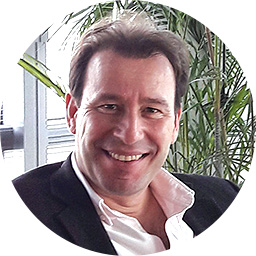 Philippe Dereeper
Chief Compliance Officer & Executive Secretary of the Supervisory Board
Integrity, respect, transparency and accountability are ethical standards that must never be compromised."
Yearly declaration
97%
of eligible employees signed our Code of Conduct
This year, again, we successfully ran a worldwide campaign asking all eligible employees to sign and confirm our business ethics declaration, in line with the values and principles described in our Code of Conduct. Employees who have not completed their yearly declaration are contacted to find out why.
E-signature of Code of Conduct(1) (%)

2017

2018

2019

2020

2021

97

97

98

99

97

| | |
| --- | --- |
| (1) | Percentage of eligible employees (all employees in the exempt category). |
Communication, awareness, and training
The pandemic caused us to reflect on our means of communication and training. In 2021, we updated our training to include formats that ensure a high quality of distance learning and excellent user experience. We developed four new interactive e-learning programs:
anti-bribery and corruption
conflict of interest
anti-harassment and discrimination
insider trading
Divided into 24 five-minute modules, these new programs enable users to take an active role in their training through practical cases and quizzes. Accessible via our training platform, they are available in 10 languages and include a glossary and quick access to useful resources. Our ambition is to provide the best e-learning experience possible to all ST employees across the globe.
Building Trust Together
Overall, our training and e-learning programs were taken by more than 17,000 employees in 2021. As well as e-learning, our team also identified and trained more than 2,000 targeted employees on specific topics based on their role, responsibilities, and associated risk exposure.
Our Compliance, Ethics and Privacy multi-channel communication and awareness strategy continued in 2021, via our intranet pages (generating more than 70,000 views), through our mobile application ST Integrity, and through a newly launched 'Building Trust Together' Yammer community, as well as an on-site poster campaign.
In addition, we participated in the 2021 Distribution and Sales Convention for Asia Pacific, with more than 900 business partners in attendance physically and virtually. We also organized a web conference in France on International Anti-Corruption Day, with more than 800 employees logging into this hour-long web event.
Privacy
We respect the privacy of our stakeholders, including our employees, in the way we collect and use their personal data.
During 2021, we updated our privacy policy, and drafted and implemented a standard operating procedure covering the processing of employees' personal data. We also published several articles on the protection of personal data on our intranet, as well as procedures to be applied when hiring suppliers whose services require the processing of personal data, or when collecting and processing contact information of individuals interacting with ST via our websites or conferences. Reflecting the increased awareness around data usage and privacy in society as a whole, we processed over 200 data subject access requests.
We did not receive any complaints on privacy breaches during 2021.
Bribery and corruption
Zero-tolerance
towards bribery and corruption
We have a zero-tolerance approach towards any forms of bribery and corruption, regardless of the identity or position of the originator or recipient of the bribe. It is also strictly forbidden for anybody in ST to use Company funds or assets to make a political contribution.
This applies to all our employees, organizations and third parties acting on behalf of ST and all transactions in any country where we operate and do (or seek to do) business. Any violation will be deemed a serious violation of our Code of Conduct and lead to disciplinary action, including termination of the relationship with ST.
Our Anti-Bribery and Corruption policy (see investors.st.com/highlights) provides clear definitions regarding instances of bribery and corruption and includes detailed descriptions of the Company's rules for engaging with third parties. It also explains how to report actual or suspected violations, and outlines the potential disciplinary actions and legal consequences of any non-compliance.
Speak up and misconduct reporting
We encourage everyone, including external business partners, to express any concerns they might have regarding possible violations of our Code of Conduct, our policies, or the law. Managers are accountable for maintaining a working atmosphere where employees are comfortable speaking up and expressing their concerns freely. All concerns raised are taken seriously.
Our misconduct reporting process is communicated to all employees through, among other things, our Code of Conduct, dedicated intranet web pages and our ST Integrity app. In addition to internal local and corporate reporting channels, we have an independent multilingual misconduct reporting hotline. A link to our hotline is accessible on our intranet, our website (see www.st.com), and our ST Integrity app. It can be used by any employee, business partner or stakeholder.
We apply the highest standards of confidentiality in handling all reports received, either through local management or through the hotline. We ensure that no employee who reports a concern in good faith suffers retaliation in the form of harassment, or adverse employment or career consequences.
Misconduct reporting

Misconduct reporting

2021(1)

Number of incidents under review as of January 1st

7

Number of incidents reported or identified during the year

73

Asset misappropriation

9

Bribery & corruption (including conflict of interest)

12

Harassment & discrimination

42

Other

17

Incidents closed after a preliminary assessment or formal investigation

73

Number of confirmed external misconduct cases

1

which led to terminating or not renewing contracts with business partners

0

Number of confirmed internal misconduct cases

23

which led to employees being dismissed or disciplined

22

Incidents still open at year end

7

Number of public legal cases regarding corruption brought against ST or its employees

0

| | |
| --- | --- |
| (1) | In 2021, we included locally reported cases, in addition to cases reported at corporate level. |
Ethics committees
The purpose of our Corporate Ethics Committee is to support ST management in its efforts to foster a consistent ethical culture across all regions, functions, and organizations. Formed in 2007 and chaired by our Chief Compliance Officer, Philippe Dereeper, the committee comprises senior managers representing various ST organizations, appointed for three-year terms by our President and Chief Executive Officer. It met three times in 2021.
The role of the Corporate Ethics Committee includes:
evaluating the principles in our Code of Conduct, with reference to our culture and commitment to business ethics
reviewing the main ethical breaches, allegations, and related investigations
providing guidance on ethical dilemmas that may be faced by the Company, upon request from the Managing Board or the Chief Compliance Officer
promoting and coordinating the activities of our four local ethics committees in France, Italy, Asia Pacific and the Americas
Our four local committees contribute to this mission within their respective geographical areas. Their activities are complementary to the Corporate Ethics Committee, with which they are in regular communication.
Annual sustainability goal

Status

Comments

SG17: Ensure every year that 100% of our employees have access to and are aware of our ethics and compliance support line.


100% have access
Estimate 92% are aware

SG18: Ensure every year that 100% of exempt employees sign an agreement to comply with our Code of Conduct and related procedures.


97%