Health and Safety
People's health and safety always come first at ST. We are committed to protecting the health and safety of employees and contractors by providing a safe working environment, preventing work injuries and illnesses, and providing access to healthcare.
Since the beginning of the COVID-19 pandemic, we have had two priorities:
the protection and safety of our employees and our subcontractors by maximizing all prevention measures that can be put in place
the continuity of our activities to fulfil our commitments
By continually focusing on these priorities across every area of our business, we have been able to maintain the health and well-being of our people and uphold our responsibilities to customers and other stakeholders. I 103-1 I
Health
Keeping our employees healthy, safe, and supported
>13,000
voluntary vaccinations
In 2021, as the pandemic continued, all our sites around the world persisted with adapting their health and safety measures to the local context.
One of our most important measures was giving employees the opportunity to get their vaccinations at work. More than 13,000 employees took advantage of the offer.
We continued with our Corporate Crisis Team (CCT) that has been meeting every week since 2020 to monitor the COVID situation and ensure we take the right measures across all our sites.
All our manufacturing sites remained operational in 2021 and we ensured the safety of employees on site by taking the following measures:
>10 million
masks distributed
regular and specific communication to our employees according to the alert levels at each site (physical meetings, travel restrictions, working-from-home arrangements, quarantine procedures, etc.)
strict control of site entrances with a self-declaration, filtering process, and temperature checks
personal protective equipment: more than

10 million

surgical masks distributed in 2021 and hand sanitizer everywhere, for everyone
social distancing: protection measures in canteens, flow management in staircases, lifts and corridors, strict distance to be respected everywhere, restrictions on the use of meeting rooms and training rooms
adapted measures to minimize potential COVID-19 transmission in some areas, such as cafeterias with a takeaway food option and longer opening times, air renewal monitoring, and high-frequency cleaning in shared spaces
working from home for eligible employees
24/7 psychological support with STCare supported by Eutelmed, giving all our employees permanent access to immediate, anonymous, and confidential care
planning for 'back to normal' progressive measures driven by site managers and adaptable to the health situation of each country (planning was developed according to applicable regulations, including trade union agreements and site hosting capacity)
All these measures were deployed to protect our employees in their work environment. However, some local contexts were challenging, and we regret that 29 of our employees died of COVID-19 during the year.
Safety
In 2021, we achieved our best-ever safety result, with a recordable case rate (injuries) for ST employees of 0.12, better than our target of 0.15.
0.12
recordable injury case rate
We improved our severity rate (injuries) by 26% vs 2020 reaching 2.4, but missed our annual target of 2.0. Half of all injuries, representing 65% of our days lost, are due to falls or slips. We put in place several programs and actions to improve behaviors in various areas, such as stairs and pathways.
We also began reporting on our recordable cases (injuries and illnesses) for both employees and contractors, and we reached a rate of 0.15, in line with our 2025 goal. The Lost Workday Case (LWDC) incident rate for contractors reached 0.27, slightly above our 0.24 target.
Contractors lost workday case incidence rate (LWDC)

I 403-9 I

| | | | | | |
| --- | --- | --- | --- | --- | --- |
| | 2017 | 2018 | 2019 | 2020 | 2021 |
| Lost workday cases per 100 contractors | 0.24 | 0.29 | 0.26 | 0.24 | 0.27 |
Levers to improve our performance
To help us achieve these results, we continued to focus on providing environment, health and safety (EHS) training. By the end of 2021 we had provided an average of six hours of training per employee. We also strengthened our proactive approach, working on hazards, near-misses, and unsafe acts and conditions.
FOCUS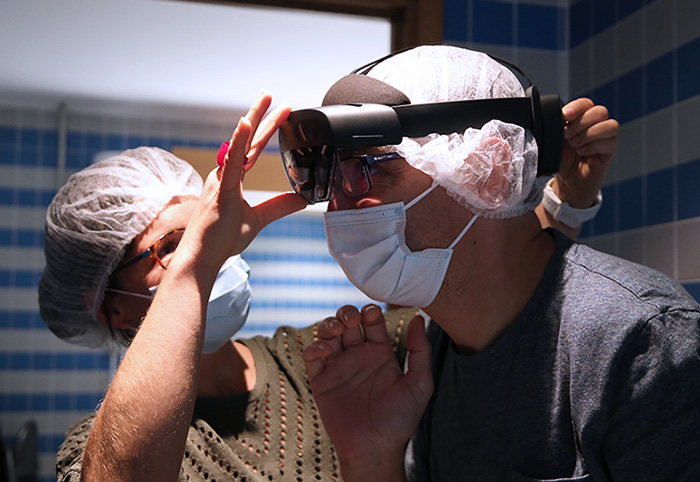 Extended reality for fire training
Fire training for ST staff is an essential part of maintaining a safe working environment, and raising awareness and understanding among employees.
Due to the COVID-19 pandemic and the necessity to avoid training in confined spaces, our French fire training team introduced a new training method: fire training in extended reality, with combined real and virtual environments.
Thanks to the use of extended reality glasses, trainees are taught using virtual fires in their local work environment. This allows sites to:
train employees in their actual work environment to represent the real threat they face more explicitly and to help them locate emergency equipment such as extinguishers and alarms
adapt the scenario so that trainees are immersed in their training
use less equipment and emit less pollution thanks to the virtual training environment
In 2021, more than 700 employees in France were trained using this method.
Since 2020, we have drastically improved the number and quality of field visits by managers, despite the challenging period. We undertook more than 35,900 field visits in 2021 compared to 28,400 in 2020, an increase of 26%. These visits aim to promote open communication to address safety concerns and potential risks, provide positive feedback on safe behaviors, and enforce safety rules and safe practices.
We have a robust and mature health and safety management system, aligned with ISO 45001. Our performance and management systems are evaluated annually through third-party surveillance audits. Certifications are renewed every three years. We also continued our legal compliance audit program with 10 sites audited in 2021.
Due to COVID-19 restrictions, we stopped our on-site corporate EHS internal audits in 2020. In 2021, we restarted the program and managed to audit two sites.
Raising awareness on health and safety
We work proactively at all levels to identify potential issues in the workplace and develop innovative measures to raise employee awareness and knowledge.
For example, our Rousset site (France) developed a safety escape game to raise awareness of health and safety risks among new recruits. Participants have to identify a number of hazards within a limited time, such as electrical, mechanical, chemical, ergonomic or noise issues. The game takes place in a closed room assisted by an instructor who guides the 'players' on how to behave in hazardous situations. In 2021, all new recruits at the site were trained through this new initiative.
In March 2021, our Crolles site (France) presented their work on ergonomics since 2009 to the health and safety working group of the World Sustainability Council (WSC). Their journey started with improving employee workstations, and gradually expanded to the overall wellness and health of employees. The site recently started a 'Santé vous bien' program to improve the quality of life at work. One of its projects focuses on the link between musculoskeletal disorders (MSDs) and the operator's role in the production process. In 2021, the team relaunched daily physical warmup exercise in all workshops to help prevent the occurrence of MSDs.
Recognition
We held our first Corporate Safety awards ceremony in 2021 to promote and recognize prevention measures, proactivity, the strengthening of safe practices and behaviors, and positive results. This year, our Calamba site (the Philippines) and the Electrical Wafer Sorting (EWS) Europe organization received the awards, acknowledging their active contribution to improving health and safety.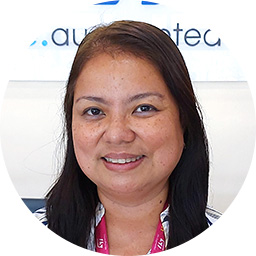 Francis Ann Llana
EHS manager, Calamba (the Philippines)
Receiving the first ST Corporate Safety award is an achievement that every employee at Calamba should be proud of. It rewards the commitment of the management team on making safety a priority. It also reflects the discipline and safety culture of Calamba employees, which is continually developed through our safety programs. These programs, such as safety training, safety bulletins, manager walks, hazard hunting and others, aim to educate and raise the awareness of our employees on safety issues. I am truly grateful for this award. It acknowledges the effort and dedication of all our employees. They are the ones who made this achievement possible for ST Calamba."
Contributing to the Sustainable Development Goals
Our commitments and programs as described above contribute to:
SDG target 3.8 – Achieve universal health coverage, including access to quality essential healthcare services and access to safe, effective, quality, and affordable essential medicines and vaccines for all.
SDG target 8.8 – Protect labor rights and promote safe and secure working environments for all workers.
| | | |
| --- | --- | --- |
| 2025 sustainability goal | Status | Comments |
| SG3: Reach a Recordable Case Rate of 0.15% or less by 2025 (work‑related injuries and illnesses, including contractors). | | 0.15% |
| | | |
| --- | --- | --- |
| Annual sustainability goal | Status | Comments |
| SG4: Maintain our Severity Rate at 2% or less each year (work-related injuries and illnesses, including contractors). | | 2.80% |
| Subcontractors recordable case rate (injuries) of 0.24 or less. | | 0.28% |
| Employee recordable case rate (injuries) of 0.15 or less. | | 0.12% |
| Employee severity rate ≤2.0. | | 2.40% |