Community and Education
We have a longstanding commitment to investing in the communities where we operate and believe we have a responsibility towards our local ecosystems and society at large.
We encourage our employees to engage in local community programs aligned with our sustainability strategy and with the local, operational and cultural context. We invest in the future of the communities we support, sharing with young people our passion for science and electronics in our 'STEM your way' program. I 103-1 I
Since 2012, we have measured our community involvement through the Business for Social Impact (formerly London Benchmarking Group) methodology, a global standard to measure and manage corporate community investment. I 103-3 I
Strengthening our performance
>138,000 hours
working with local communities
In 2021, we implemented 520 community initiatives worldwide, an increase of 56% on the previous year. These included:
involvement of 33 sites in 20 different countries
>138,000 hours of Company time, representing 68% of the total contribution

US$1.33 million

in cash donations

US$1.33 million

in in-kind donations
520 initiatives
The large increase in the number of community initiatives is largely due to the expansion of our 'STEM your way' program. This is reflected in the global breakdown of initiatives, with 68% supporting education, compared to 43% in 2020.
Other areas we supported include the ST Foundation, innovation, and economic development with startup hosting (see Innovation), and healthcare. Our support for healthcare initiatives included donations to medical research groups in Italy and support to hospitals in regions badly affected by COVID-19, for which we gave oxygen concentrators (India), respirators (Tunisia) and FFP2 masks (Hong Kong).
STEM your way program
Our 'STEM your way' program is about raising awareness in young people about the importance of Science, Technology, Engineering and Mathematics (STEM) subjects and inspiring them to explore STEM-related careers.
>69,000
beneficiaries of our 'STEM your way' program
Our 330 STEM events and initiatives in 2021 reached more than 69,000 students and teachers. Despite the continuing pandemic, we successfully expanded the program with events in new countries, notably, Korea, Malta, Switzerland, and India, as well as rolling it out to smaller sites in existing countries, thanks to sharing best practices and the support of our major sites. The creation of a worldwide network of STEM champions and ambassadors has also allowed us to capture more data and so improve our reporting.
FOCUS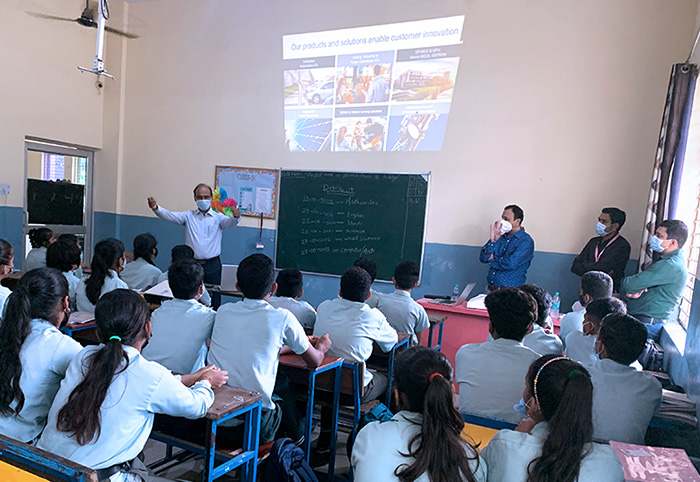 STEM your way launched in India
The 'STEM your way' program was launched in Greater Noida (India) at the beginning of 2021, with an awareness campaign and a call for volunteers. More than 60 employees volunteered to participate and five of them formed a steering committee. The committee decided to structure the STEM your way program around three existing initiatives: Dream Classes, the Digital Unify program – both addressing underprivileged children and teenagers – and UniConnect, a program fostering links between the Greater Noida site and various universities.
To develop the STEM your way program, volunteers identified local educational needs with the help of schoolteachers and representatives. They created four basic science modules focusing on gravity, astronomy, electricity, and thermodynamics.
More than 300 students from junior and senior schools participated in webinars and workshops. ST employees also acted as mentors for an innovation competition. The next step is to deliver training on artificial intelligence, IoT and the handling of electronics. Content has been created during the year and will be delivered in 2022.
Starting young
We recognize the advantage of inspiring young children who tend to be curious, open-minded, and less influenced by their peers. We developed several new activities for primary schools, such as a Tiny Teen Science Café in Kirkop (Malta). The aim of this activity is to promote the uptake of STEM subjects by bringing 10- and 11-year-olds closer to STEM professionals.
STEM for girls
We believe our industry needs more diverse talents to create a better future and that we have a role to play in combating gender stereotypes in science and technology.
We organized initiatives in France, Italy, Switzerland, and Singapore, targeting the empowerment of girls in science. Our site in Catania (Italy) made a particularly strong contribution with five remote events in 2021, reaching 655 students.
Middle and high schools
Martian robot and connected plant
kits for schools
To address digital skills at school, we invested in a project with Vittascience, a French startup specializing in educational tools. The collaboration aims to support education by providing tools for coding at middle and high schools. Vittascience developed a coding platform and two hands-on kits (the Martian robot and the connected plant) integrating an ST microcontroller and sensors. The kits are available in English, French and Italian and can be shipped worldwide. These developments were funded by the Important Projects of Common European Interest (IPCEI) for Microelectronics program.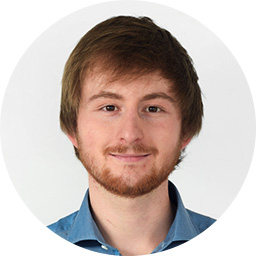 Léo Briand
Vittascience – CEO and Co-founder
Thanks to the successful collaboration with ST engineers, we designed a coding platform, two hands-on kits and activity booklets to help boost digital learning in schools. The platform and the booklets are available in French, Italian and English. It is a great opportunity to spread the tools all around the world and help students acquire new skills to equip them for the future."
Building on our partnership with the French CGénial Foundation initiated in 2020, 50 kits were delivered to teachers in France, alongside training sessions by ST engineers and Vittascience developers. The kits were also presented to the public and middle and high school visitors during the 2021 French Fab Tour, a series of events across the country promoting French industry, co-organized by Bpifrance and UIMM(1), in which STMicroelectronics was a partner.
Higher education
At university level, we support students with our expertise and help to equip them with skills for their future careers.
Many of our technical experts work closely with universities and deliver courses and webinars. We have a large program with Chinese universities aimed at teaching how to use our products. We also have several partnerships with prestigious universities in the United States where, for example, we collaborate to develop open-source tutorials.
In 2021, our Tunis site (Tunisia) developed relationships with Tunisian universities by working on engineering projects with students. Our Agrate site (Italy) developed new courses to prepare future maintenance engineers for the microelectronics industry (see Talent Attraction and Engagement). Similarly, engineers from our Rousset site (France) joined I-NOVMICRO, an innovation program to develop and promote the microelectronics and electronics training sector in southern France, and created data analysis courses.
ST Foundation
>860,000
people trained in
28
countries since 2003
The ST Foundation (see www.stfoundation.org) continues to bridge the digital divide between those who have access to modern technologies and those who do not. The Digital Unify (DU) program, launched in 2003, has trained over 860,000 people in 28 countries since its inception.
In 2021, around 86,800 trainee students took part in classes on basic and advanced computer skills, and 'Tablets for Kids'. Out of this total, 206 courses were organized entirely online during lockdowns.
The pandemic and the increasing switch to digital technologies revealed further inequalities in digital access. Although new technologies offer great opportunities for distance teaching and learning for schools, teachers, and students, they also highlight significant disparities and gaps in skills and competencies.
In this regard, the ST Foundation continued its efforts to help schools and families better manage e-learning through a program named 'Society Digitalization'. With a focus on Italy and France, this program aims to:
secure donations of equipment to digitally excluded families
deliver new courses and content to support teachers with digital learning
develop an e-learning platform
To achieve this, the Foundation received a wide range of support from ST, including:
cash donation of US$500,000
electronic and IT equipment
involvement of Italian volunteers in webinars on promoting digital careers
appointment of one full-time person to manage the Foundation's activity in France, and one in Italy in 2022
time devoted by employees to developing new courses, especially Italian and Indian volunteers
support from Corporate External Communication to maintain the Foundation's website and produce its activity report to external stakeholders
Contributing to the Sustainable Development Goals
Our commitments and programs as described above contribute to:
SDG target 4.3 – Ensure equal access for all women and men to affordable and quality technical, vocational and tertiary education, including university.
SDG target 10.2 – Empower and promote the social, economic and political inclusion of all, irrespective of age, sex, disability, race, ethnicity, origin, religion or economic or other status.
2025 sustainability goal

Status

Comments

SG6: Engage employees in deploying STEM partnerships in 20 countries by 2025.

9 out of 20 countries*

| | |
| --- | --- |
| * | China, Czech Republic, France, India, Italy, Malaysia, Switzerland, Tunisia, USA |
(1) Union des Industries et Métiers de la Métallurgie