Sustainability strategy
Sustainability has been engraved in ST's business model and culture for nearly 30 years.
26
years of sustainability reporting
DJSI
included in World and Europe indices
2027
carbon neutrality commitment
Sustainability has been a cornerstone of our business model for nearly 3 decades. We believe our commitment to a sustainable culture is good for people, the planet, business, and society at large. Our ambition is to create sustainable technology for a sustainable world, creating long-term value for all our stakeholders.
Accelerating sustainability, together
Sustainability is embedded throughout our business model. We implement programs to manage our impacts, opportunities, and risks at each step of our value chain. Our guiding principles and 24 sustainability goals are detailed in our sustainability charter. This is endorsed by Jean-Marc Chery, our President and CEO, and is available at www.st.com/sustainabilitycharter. Our progress towards these annual, 2025 and 2027 goals is described in this report, with a focus on transparency.
To support our sustainability ambitions, we integrate sustainability objectives into the compensation schemes of our senior executives and employees eligible for incentives. These objectives focus on safety, carbon neutrality, gender diversity, employee engagement, and stakeholder recognition.
As part of our plan to accelerate sustainability and engage our stakeholders, we conducted a series of sustainability workshops in 2022. The goal was to train our executive management, site managers, and sustainability and communication teams on how to engage with internal and external stakeholders on sustainability topics.
Identifying the material issues
We identify the topics that are important for our stakeholders and have a positive or negative impact on the economic, social, and environmental value of our business.
Materiality assessments enable us to prioritize and focus on the most material topics and address them in our strategy, programs and objectives. For each material topic, we define a specific ambition and a long-term goal.
We performed our most recent comprehensive materiality exercise in 2020. We analyzed the global sustainability context, emerging topics, and the role of our industry in identifying our material impacts, risks and opportunities. To assess the importance of each topic and its impact on value, we consulted more than 300 stakeholders, as well as our executive management team. I 2-29 I
To target our sustainability management efforts, we regularly re-evaluate the results. In 2022, our review included data-driven insights from an AI software platform. With this new approach to materiality analysis, we were able to include a wider range of stakeholders and analysis of data points from public sources, such as corporate financial and sustainability reports, regulations, voluntary initiatives, news, and social media. It helped us compare internal priorities with external risks and opportunities. Based on the results of this assessment, some topics have been re-evaluated in terms of their importance and impact.
The most material topics identified were:
health and safety
GHG emissions
water efficiency
labor and human rights
We also identified an increase in materiality for some topics, such as risk management, business continuity, and data privacy, for which we already have substantial programs in place. Biodiversity also gained in importance, prompting us to launch a dedicated company-wide program (see Our approach to the environment).
I 3-1 I
Click on a focus area to see the relevant material topics
Overview
Governance
Business
People
Environment
Communities
No Priority*
*Not a strategic priority but some programs in place
Following an in-depth analysis of all inputs, we made a final selection of the most material topics to define our sustainability strategy. In some cases, these topics were combined to reflect our highest priorities as well as the rapidly evolving sustainability environment. I 3-2 I
Living our values
Governance, Ethics and compliance, Risk management,
Stakeholder engagement and commitment to sustainability
Interview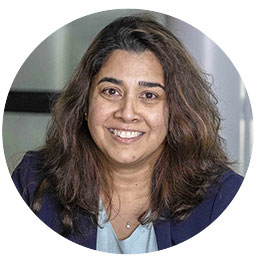 Rajita D'Souza
President,
Human Resources and Corporate Social Responsibility
What defined sustainability at ST in 2022?
The global energy crisis delivered a fresh set of challenges within an already complex environment. At ST, we have been integrating sustainability into our business model and operations for nearly 30 years. We have an established approach to energy management, which is a key pillar of our carbon neutrality program. In 2022, we were well positioned to accelerate our energy-saving efforts and we established energy crisis teams in France and Italy ahead of official government requirements. Monitoring our carbon footprint is critical, but we are increasingly focusing on the carbon handprint of our products and actively developing solutions for a more sustainable society at large.
We believe it is our people who help us achieve our goals. To support this, we have continued to work on our transformation programs to drive positive change across the Company. To help us develop a key pillar of our human resources transformation program, we dedicated our employee survey to diversity, equity and inclusion. This will help us identify and focus on what needs to change going forward, so we can work together more effectively.
How is ST engaging internal and external stakeholders in sustainability?
We view sustainability as a collective responsibility. Engaging with our stakeholders plays a vital role in helping to prioritize and accelerate our sustainability strategy. We involve our customers, suppliers, and partners in our materiality exercise by gathering their feedback on key issues to be incorporated into our strategy. This allows us to support their expectations.
During 2022, we launched our sustainability messaging platform, which delivers targeted sustainability training and awareness programs to employees, including site managers, EHS representatives and sustainability champions. This helps reinforce alignment and creates a common core of knowledge. It also allows our sites to create sustainability roadmaps and convey this information to all stakeholders effectively.
I am also delighted that there have been so many local events, such as sustainability and EHS weeks, and sustainability challenges, which all help to raise awareness and motivation across the Company. We are very proud of the scope of many initiatives, such as 'Break the bias in STEM'. This series of external webinars aimed at ending gender discrimination in science in schools reached 15 countries in 2022.
What will influence the sustainability roadmap at ST going forward?
We will continue to observe global trends and consider our stakeholders' expectations. Thanks to our proactive approach, we are well positioned to respond to growing external priorities, such as biodiversity and the demand for green applications and responsible products. To maintain this status, it is essential we continue to attract and nurture talent across the organization.
ST has been reporting its environmental impacts since 1998. During this time, the regulatory landscape has evolved significantly. We have laid solid foundations in this area which enable us to fulfill new requirements and strive for even greater transparency.