Sustainable technology
Our technology plays a key role in helping to solve environmental and societal challenges.
2011
launch of product stewardship program
23%
of revenue from responsible products
77%
of new products identified as responsible
A unique lifecycle approach
Since launching our product stewardship program in 2011, we have applied a product lifecycle approach at every stage, from responsible sourcing to end of life. This not only reflects our commitment to creating sustainable technology in a sustainable way, but also makes a positive contribution to the world.
To better manage our risks and address business opportunities in fast growing sustainability markets, we further developed our product stewardship program in 2022. As a result, we reworked our lifecycle assessment (LCA) tool for higher automation and scalability, with the aim of better supporting our customers and providing more accurate data for investors. We then worked alongside an external consultant to define a roadmap for scaling up the adoption of the updated LCA tool and further integrating it across all ST systems.
The LCA methodology is developed in line with ISO standards 14040 and 14044. Our product management system tracks key indicators to encourage our product development teams to implement green designs wherever possible. I 3-3 I
Today, we can undertake an LCA for any product in our portfolio based on specific product parameters. As well as climate change, the estimated footprint can be calculated for other categories, such as water demand, eutrophication or photochemical ozone formation.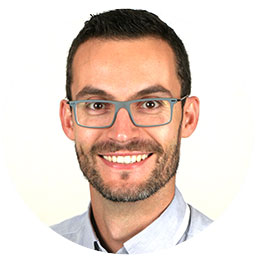 Olivier Zanellato
Product stewardship and LCA, Corporate Sustainability
Since taking on responsibility for product stewardship in 2022, I have witnessed an increasing demand for LCA, both from customers and regulators. The challenge for ST is to have a solution able to cover its diverse portfolio of over 20,000 products. Our new upgraded LCA tool can dynamically provide the footprint of any product on demand. In 2023, we will continue working on more accuracy, automation, integration, and coverage (biodiversity and social). Our ambition is to get our LCA approach certified in the coming years."
Program progress
Paving the way to sustainable applications
Our sustainable technology program enables us to classify our products into four categories of 'responsible products' that provide environmental and social benefits.
A product is given a 'responsible product' label when it demonstrates that the use for which it was designed brings social or environmental benefits. Examples of responsible products are available on www.st.com.
77%
of new ST products are responsible products
Enabling the transition to planet-friendly alternatives, our semiconductor solutions are used in a wide variety of environmental applications, from electric mobility and renewable energy grids to smart industries. In addition, our products and technologies cater to a wide variety of human-welfare applications with social benefits. These solutions help our customers create applications that ensure people lead safer and healthier lives.
We identified 77% of our new products as responsible in 2022, compared to 69% in 2021. This classification helps us identify and track revenues from our responsible product portfolio. In 2022, revenues from responsible products increased to 23%, compared to 20% in 2021. This is on track for our 2027 target to generate at least 33% of our revenues from responsible products.
Jean-Louis Champseix
Group Vice President, Corporate Sustainability
For more than 10 years, our strategy has been to create responsible technologies for a more sustainable society. All our products go through an eco-design and then a full lifecycle assessment, from 'cradle to grave'. Several environmental criteria are assessed such as greenhouse gas emissions and water impact. This comprehensive approach enables us to predict and reduce our manufacturing footprint. It also provides our customers with a competitive advantage through the improved handprint and positive environmental impact of our technologies and products during their use phase."
Considering every stage of the product lifecycle
Enabling technologies and eco-design
ST creates advanced semiconductor technologies by offering innovative power electronic solutions based on wide-bandgap technologies, such as silicon carbide (SiC) and gallium nitride (GaN).
By keeping eco-design at the heart of our product development, our designers innovate to create:
Low-carbon products: thanks to low resource consumption and the lower number of manufacturing steps required, these products reduce the environmental footprint of our production equipment, utilities, and supply chain.
Power-efficient products: state-of-the-art in reducing electricity consumption and power losses, these products lower the environmental footprint of the end-devices they are embedded in.
Responsible sourcing
Our responsibility begins with the raw materials and the substances we use to manufacture our products. All our raw materials are sourced in line with the latest environmental and social guidelines, and sustainability criteria are included in our purchasing processes (see Responsible supply chain and Responsible mineral sourcing).
Low footprint manufacturing
We strive to reduce the impact of our manufacturing activities on natural resources by managing our greenhouse gas (GHG) emissions, reducing our energy, water and chemical consumption, and recycling waste.
Power efficient products and sustainable applications
Reducing the power consumption of electronic devices is a major feature of our portfolio, helping to reduce our environmental footprint year after year. However, our products go beyond power efficiency and contribute in other ways to help solve environmental and social challenges.
End of life recycling
96%
of our products exceed RoHS directives
We strive to ensure our products meet or exceed applicable environmental requirements such as REACH(1), RoHS(2) and HSPM(3) (see Chemicals). ECOPACK processes and classification help us monitor the substances used in our products, which in turn facilitates end of life and recycling when our devices are disposed of. By the end of 2022, 96% of our products exceeded RoHS directives and were rated ECOPACK2 or ECOPACK3.
ST technologies that are driving tomorrow
NFC for sustainability
Near Field Communication (NFC) is a technology based on Radio Frequency Identification (RFID) that enables wireless communication between a reader and a tag. It can be used to connect products to the digital world, while also enabling innovative sustainability features. In 2022, ST published a white paper outlining how brands, consumers and companies can benefit from NFC technology in our progress towards a greener planet.
An example from our NFC portfolio is the ST25 product family whose features make it suitable for sustainable applications, providing a wide range of benefits such as:
consumer product sustainability information
product eco-design
product sustainability over lifecycle
second-life advice
health and safety
circularity
responsible supply chain management
consumer reward programs
Since its release in October 2022, the white paper had more than 25,000 visits and 1,565 downloads.
Connected health
ST is a trusted provider of high-quality technical solutions that enable the development of breakthrough medical systems. Our technologies have increasingly become an enabler for medical and healthcare applications, paving the way to connected health or e-health. They offer multiple benefits such as remote monitoring, privacy and integrity of patient data, compact devices for diagnostic measurement, increased processing power, and AI.
Smarter mobility
With cars becoming more connected and therefore more vulnerable to cyberattacks, security has become a critical concern for automotive applications. ST is committed to providing secure solutions to address the challenges of this new era of digital technologies.
Our well-proven ST33-A hardware secure element, STSAFE-V and ST4SIM families were designed to guarantee passenger safety, avoid abnormal vehicle behavior, ensure data privacy in vehicle-to-network communications and incorporate digital key systems.
Smart farming
The farming industry is becoming increasingly digitalized through the widespread adoption of the latest data and communication technologies. Real-time collection and analysis of field information, such as soil moisture, temperature, pH, and other quality parameters, is important to maximize the quality and yield of the harvest.
Our STM32 family of products, in combination with a market-proven selection of environmental and inertial sensors, offer comprehensive solutions to enable product tracking, irrigation systems, livestock position, crop health monitoring and smart tractors.
ST's product portfolio for irrigation systems caters to a variety of products and applications in two main categories:
pumps, actuators, and valves, which are used to properly convey a controlled flow of water and ensure an efficient water supply
sensing and control applications that provide real-time data for monitoring, effective irrigation control and water management, using the latest wireless technologies for reliable connectivity
The potential of ST products and solutions to play an important role in enabling the green transition has been increasingly recognized at numerous high-profile events, such as:
Reuters Impact (United Kingdom), where ST President and CEO Jean-Marc Chery discussed how new technologies are accelerating society's transition to cleaner and smarter systems.
CESA (France), which focuses on automotive electronics and sustainability, where ST was well represented by top executives.
Electronica 2022 (Germany), where ST showcased technology for smarter mobility along with energy efficiency, industrial IoT and factory automation.
FOCUS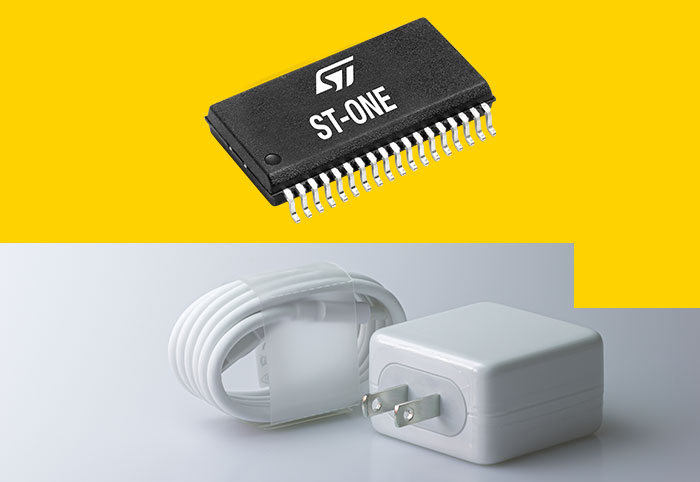 ST-ONE and only
The innovative ST-ONE power supply controller joins forces with our MasterGaN technology in a ground-breaking laptop/smartphone charger design with energy recovery. It is the world's first digital controller to integrate a programmable offline power supply controller. It is a turnkey solution for designing standard applications.
ST-ONE controls the MasterGaN chip, to make the best of its high-power density for even greater energy efficiency. The technology means that end products can be smaller and consume less energy. As a result, adapters built with ST-ONE can reduce both CO2 emissions and the quantity of plastics used, providing significant sustainability and environmental benefits.
In addition, ST-ONE's energy recovery technologies optimize power supply control to recover energy normally dissipated as heat from conventional circuits. The device also simplifies circuit design with a significant reduction in the number of components. This enables more robust and affordable power supplies and encourages greater adoption throughout the market.
While using GaN substantially reduces carbon emissions, Domenico Arrigo, Industrial and Power Conversion Division General Manager, STMicroelectronics, said of its impact on packaging, "if one billion chargers worldwide were to use our technology, the world could save 200,000 tons of plastics and raw materials."
| | | |
| --- | --- | --- |
| 2027 sustainability goal | Status | Comments |
| SG2: Generate at least 33% of our revenues from our Sustainable Technology's most advanced responsible products by 2027. | | 23% |
(1) REACH: Registration, Evaluation, Authorization and Restriction of Chemicals.
(2) RoHS: Restriction of Hazardous Substances.
(3) HSPM: Hazardous Substance Process Management.