Awards 2022 overview
Every year, we receive external recognition for our approach to sustainability. Here are some examples from 2022.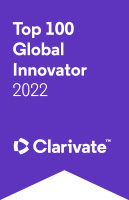 Top 100 global innovator
ST was recognized as a Top 100 Global Innovator™ by Clarivate™. This is an annual list that recognizes organizations across the globe for excellence and consistency in innovation. ST was acknowledged as a technology innovator in smart power technologies, edge AI solutions, and MEMS sensors, among other areas.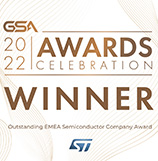 Outstanding semiconductor company
ST was named '2022 Outstanding EMEA Semiconductor Company' by the Global Semiconductor Alliance in its annual awards. This prestigious award recognizes semiconductor companies that have demonstrated excellence through their success, vision, strategy, and future opportunities in the industry.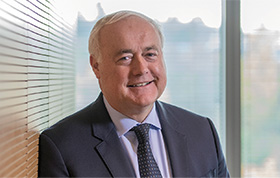 Industrialist of the year
Jean-Marc Chery, our President and CEO, was recognized as 'Industrialist of the Year' by the French industry magazine, L'Usine Nouvelle. This annual award is presented for economic, industrial or sustainable achievements. The trophy was presented by Bruno Le Maire, French Minister of the Economy and Finance, at the prestigious industry event, Les Assises de l'Industrie 2022.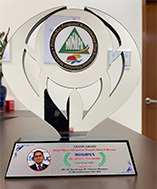 Most influential person in OHS
CS Tan, site manager at ST Muar (Malaysia), received an award for most influential person in occupational health and safety (OHS) at the Malaysian OHS Professionals Association. The award acknowledges his outstanding commitment to health and safety, as well as the implementation of a unique OHS system at ST Muar to facilitate a safe and healthy workplace.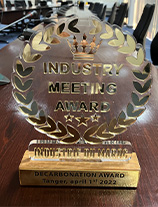 Decarbonization award
Our Bouskoura site (Morocco) received a decarbonization award from the Moroccan Trade Association as part of its Industry Awards 2022. The site was recognized for its outstanding achievements in decarbonization, contribution to industrial development, and positive socio-economic impact. The site has carried out several sustainability projects, including the installation of photovoltaic panels and the procurement of green energy from wind farms.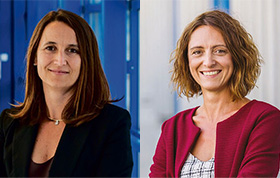 Women in industry
Two of our employees from Crolles (France) received awards at the 'Women in Industry' awards 2022 organized by the French industry magazine, L'Usine Nouvelle, acknowledging their outstanding achievements and commitment to innovation. Sandra Levasseur received the Women in Manufacturing trophy and Emmanuelle Serret received the Women in R&D trophy.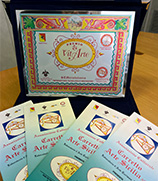 Commitment to sustainability
Our Catania site (Italy) was recognized by the cultural association Carretto Arte Sicilia for its dedication to sustainability. The site's commitment to accelerating safer, smarter, and greener living was highlighted, along with its overall mission to act together in protecting the planet.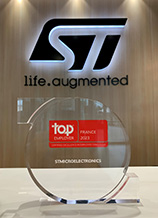 Top employer in France and Italy
ST was recognized as one of the Top Employers 2023 (based on 2022 performance) in both France and Italy by the Top Employers Institute. These awards recognize our human resources best practices focused on employees and candidates, as well as our numerous initiatives to improve well-being and develop skills.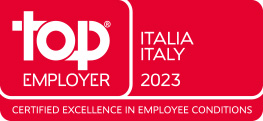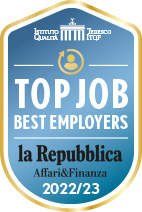 Best Employers and Best Employers for Women in Italy
At the end of 2022, for the second year running, ST Italy was listed as one of Italy's Best Employers 2023 and Italy's Best Employers for Women 2023 (based on 2022 performance). Awarded by the German Quality Institute ITQF and its media partner La Repubblica Affari & Finanza, the ranking is based on social listening on a huge database of Italian employers.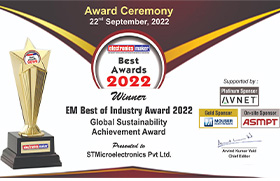 Sustainability awards
ST won three awards – global sustainability, best energy efficient industrial semiconductor product, and most innovative product – at the Electronics Maker Best Awards 2022. The awards recognized our vision and efforts to enhance product differentiation, and create value through innovation.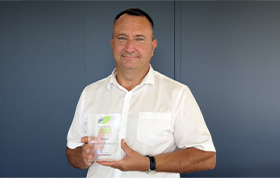 CSR award
Our site in Rousset (France) was awarded the Corporate Social Responsibility award at the Sustainable Industry Trophies organized by the French industry magazine, L'Usine Nouvelle, in Paris. The judges selected ST for its student experience program, which aims to raise awareness of jobs in Science, Technology, Engineering, and Mathematics (STEM).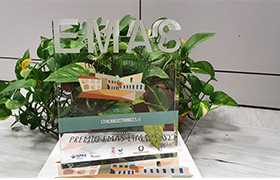 Best EMAS declaration award
Our Agrate and Castelletto (Italy) sites received the best environmental declaration award from the Ministry of the Environment in June 2022. The sites were recognized for their commitment to communicating policies and environmental programs with transparency and clarity. An interactive version of the declaration was also created with films and graphic effects.