ST products and solutions
We create unique innovations and products that solve real-world problems. Through decades of investment, we have developed leading-edge chip manufacturing and packaging technologies that help our customers to bring great ideas to life.
Our chips and systems are found in billions of products, from cars and industrial robots, through washing machines and solar panels, to smartphones and satellite communications equipment. Our technology helps our customers make all these products more intelligent, more energy efficient, more connected, safer, and more secure.
Our strategy is based on long-term trends: smart mobility, power and energy, Internet of Things (IoT), and connectivity. We address four end markets – Automotive; Industrial; Personal Electronics; and Communications Equipment, Computers and Peripherals – where these trends drive the evolving requirements of our customers. I 2-6 I
IoT and connectivity
To support the needs of IoT and connectivity, we provide a variety of products and solutions for embedded processing, artificial intelligence, security, sensing, and actuating.
Collaboration with Microsoft for developing highly secure IoT devices
Security is an increasingly critical function of all connected devices. ST's portfolio covers the full range of secure solutions, including software and hardware embedded in general purpose microcontrollers and microprocessors. These are supported by the STM32Trust ecosystem, which offers a multi-level strategy to enhance security. In 2022, we joined efforts with Microsoft to deliver an Azure IoT cloud reference implementation that leverages the hardened security features of the STM32, complemented with the hardened key store of an ST secure element.
We also provide dedicated secure microcontrollers that meet the highest security standards. These can be found in smartcards used for ID, transport, banking, and SIM cards, as well as pay TV applications.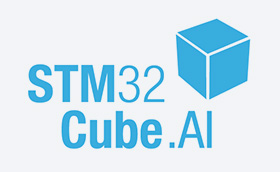 Extending AI tools with support for deeply quantized neural networks
Embedded processing capabilities are essential for every autonomous device. We offer general purpose microcontrollers, such as our STM32 family, with a wide variety of device options. This ensures designers can find the best solution for their application, whether they require ultralow power consumption, high performance, artificial intelligence (AI), advanced security or a high level of wireless and wired connectivity.
Our comprehensive development ecosystem saves on design costs and reduces time to market. Enhancements in 2022 included upgrades to our support for AI through our NanoEdge AI Studio and STM32Cube.AI, improved graphics support tools, enhancements to our security offer with Amazon Web Services, and extensions of our support for Microsoft Azure RTOS.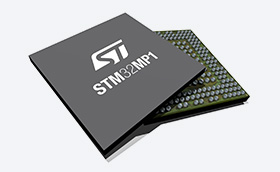 Expanding the ecosystem for our microprocessors for industrial applications
Our STM32 microprocessor (MPU) family addresses demanding industrial and IoT applications that require support for large open-source software. During 2022, we announced new MPU products and continued to extend this ecosystem with tools and software that help customers leverage AI, increase security, and implement functional safety systems for industrial applications.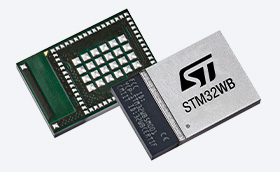 Complete wireless subsystem with Bluetooth Low Energy, Zigbee, and Thread
Our wireless connectivity solutions include STM32 microcontrollers with embedded wireless, standalone RF transceivers, and network processors for Bluetooth, Bluetooth Low Energy, Zigbee, Matter, Thread, sub-1GHz long-range networks, and Cellular IoT. We work with expert partners to make it easier for our customers to use cloud services thanks to optimized connectivity software.
In 2022, we introduced new devices, modules, development tools, and supporting software. These included a module for Industry 4.0 applications that simplifies the use of wireless microcontrollers in applications such as intelligent equipment condition monitoring.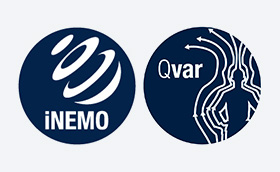 Advanced 6-axis IMU with embedded sensor fusion and AI
ST motion and environmental MEMS and sensors offer accuracy, sensitivity, ultra-low power consumption, and embedded intelligence. Our products power flagship smartphones and accessories and help deliver the best user experience. We are present in many automotive and industrial applications, with products designed to meet the performance and reliability requirements of harsh environments.
In 2022, we launched a 6-axis IMU with embedded sensor fusion and AI enabling sophisticated processing in the edge, such as 3D phone mapping, reliable and precise gesture recognition for XR headsets, as well as always-on activity tracking. We also added NanoEdge AI Studio support for on-device learning and inferencing in AI-native MEMS sensors.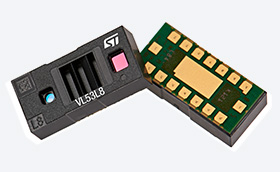 Second-generation multizone direct Time-of-Flight sensor
Our patented FlightSense technology, based on the Time-of-Flight (ToF) principle, ensures a high-accuracy, low-power, all-in-one solution for proximity and ranging sensors. They are used for personal electronics and industrial applications, as well as 3D sensing for smartphones and smart driving (LiDAR) features.
In 2022, we announced a multizone ToF sensor for gesture recognition, intruder alert, and human presence detection, as well as our second-generation multizone ToF sensor that uses less energy and can range twice as far as existing products.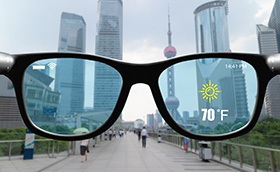 Laser beam scanning system for augmented reality
Our innovative thin-film piezoelectric microactuators ensure higher efficiency and lower costs for traditional applications such as inkjet printing, while enabling innovation with MEMS speakers, micromirrors and fluid dispensing technologies.
In 2022, we continued to support the fast development of augmented reality glasses based on our laser beam scanning solution. Together with partners, we offer a reference design and a manufacturing ecosystem that provides a one-stop-shop solution for laser beam scanning systems, including semiconductor technologies, products and reference designs.
Power and energy management
Our technology and solutions for power and energy management enable customers to increase energy efficiency everywhere and support the use of renewable energy sources.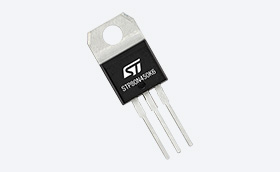 Raising power density and efficiency with SiC and GaN
We offer power discrete devices serving applications across our end markets. Our silicon, silicon carbide (SiC) and gallium nitride (GaN) power devices deliver energy efficiency and enhanced performance to applications in all the end markets we serve.
Other ST products are first choice solutions for high-end power conversion, home appliances, power supplies, and motor control.
In 2022, we announced innovations in power MOSFETs using an ST proprietary technology. This helps power supply designers maximize power density while supporting compact system dimensions in applications from data-center servers and 5G infrastructure to flat-panel televisions.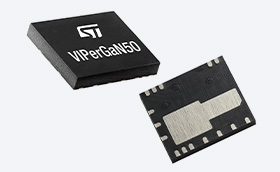 GaN converter simplifies energy-saving power designs
We address applications that require generic and application-specific solutions for power management. Our solutions enable energy-saving, high-power-density and lower-standby-power designs. Our offering includes SiC and GaN power discretes, silicon MOSFETs, IGBTs and customized power modules, AC-DC and DC-DC converters, battery management ICs, wireless power ICs, digital controllers, and gate drivers.
One of the innovations we introduced in 2022 is a GaN converter that enables high-efficiency power designs in consumer and industrial applications. The device helps designers leverage GaN technology to support global energy savings. We also introduced a fully integrated controller for smart chargers that allows a significant reduction in the number of components, enabling this type of power supply to become more robust, affordable and more widely adopted throughout the market.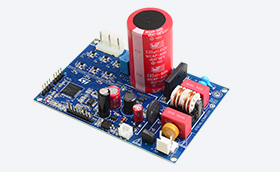 Motor drive reference designs for simplified development
We provide an array of motor control solutions that enable motors to run with higher efficiency and greater precision. We cover the requirements of brushed DC motors, stepper motors and brushless DC motors over an extensive range of voltage and current ratings. We offer highly integrated motor drivers that embed all the functions needed to drive motors efficiently and with the highest accuracy. These include a low-voltage series designed for battery-powered smart devices, and a series embedding an STM32 microcontroller.
In 2022, we released two reference designs that simplify building complete industrial or home-appliance motor drives for compressors. They include the STSPIN32 motor-control System-in-Package (SiP) with the STM32 embedded, and are accompanied by a production-ready PCB design and motor-control firmware.
Smart mobility
To meet the smart mobility needs of our global customer base, we provide products and solutions that serve the key trends in the automotive market – vehicle digitalization and electrification. We enable them to create the next generation of vehicles that are safer, greener, and more connected.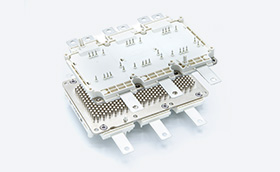 Third-generation silicon carbide solutions for EVs and charging stations
Our wide-bandgap solutions for electric vehicles (EVs) and charging stations enable our customers to create EVs with longer range and faster charging, and that weigh less. We introduced a wide variety of new solutions in 2022, including new silicon power modules that are reliable, robust, and easy for manufacturers to integrate in EV powertrains to boost performance and driving range.
We provide high-efficiency smart power solutions and processors to ensure that every device used to power, control and monitor car subsystems consumes less energy.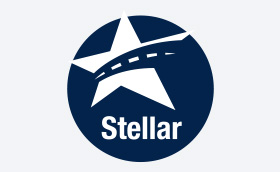 Powerful automotive MCUs to support transition to software-defined vehicles
Our automotive microcontrollers support the ongoing transformation of the automotive industry. These range from microcontroller units (MCUs) for cost-sensitive applications to advanced integration MCUs.
In 2022, we announced a new family of automotive microcontrollers targeting electrified drivetrains and domain-oriented, over-the-air-updateable systems that are the foundation of the next generation of EVs.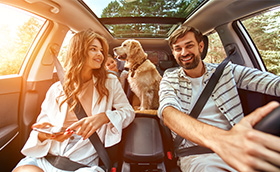 New hybrid sensor for full vehicle interior monitoring
We provide solutions, together with partners, that make driving safer by reducing traffic-related accidents. These include cutting-edge RF, vision processing systems, vehicle communications solutions as well as in-cabin monitoring solutions.
In 2022, we introduced a cost-effective solution for advanced in-car safety and comfort. The new hybrid sensor for full interior monitoring combines the sensitivity and high resolution of infrared sensing with high dynamic range (HDR) color imaging in a single component.
New driver to power next-generation automotive lighting
We offer ICs dedicated to body and convenience solutions, including body control modules and car lighting systems, as well as ASIC and ASSP solutions for engine control. Our in-vehicle telematics and infotainment systems cover high-end integrated platforms, digital radio, audio power amplifiers, and satellite navigation receivers.
In 2022, we introduced an integrated driver solution for dynamic automotive lighting control using the lightweight CAN FD Light protocol. The new driver is ideal for use with OLED lamps and lets designers produce complex light patterns and effects that enhance safety and styling.