Significant events
Throughout 2022, there were several events which demonstrated our progress, collaboration, and success. Here are some notable highlights.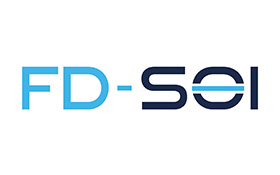 FD-SOI industry alliance
In April 2022, ST, CEA, Soitec, and GlobalFoundries announced a new collaboration to define the industry's next-generation roadmap for fully depleted silicon-on-insulator (FD-SOI) technology. FD-SOI offers substantial benefits for designers and customer systems including lower power consumption and easier integration of additional features such as connectivity and security, a key feature for automotive, IoT and mobile applications.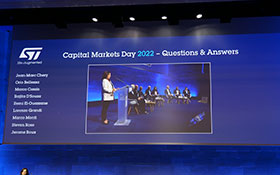 Capital Markets Day
In May 2022, we hosted our annual Capital Markets Day in Paris (France). We outlined the path towards our US$20 billion+ revenue ambition and communicated details about our latest developments to stakeholders. These included market trends, growth opportunities, and our approach to sustainability.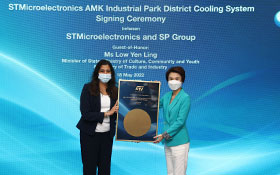 Cooling system in Singapore
As part of our commitment to becoming carbon neutral, ST signed an agreement with SP Group, Singapore's national grid operator, in May 2022. We will install Singapore's largest industrial district cooling system at our manufacturing site in Ang Mo Kio. The project has an estimated value of US$370 million and will result in a 20% saving in cooling-related energy consumption.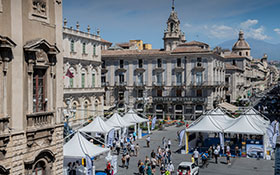 60th anniversary of Catania site
In June 2022, our site in Catania (Italy), celebrated its 60th anniversary with stakeholders and the city at large. The all-day event took place in the Piazza Università and was an opportunity to let people know about our key activities and strategy. Visitors could explore different stands focused on the pillars of our sustainability strategy. Highlights included a virtual tour of the wafer fab and a selection of 50 customer products across all technology domains.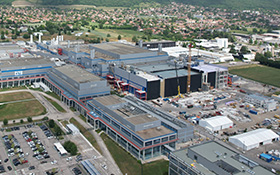 New 300mm manufacturing facility in France
In July 2022, ST signed a memorandum of understanding with GlobalFoundries to create a new, jointly operated 300mm semiconductor manufacturing facility adjacent to our existing 300mm facility in Crolles (France). The new facility will be a substantial contributor to global digital and green transformations, delivering key enabling technologies and products.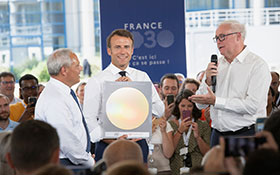 Electronique 2030 program launch in France
In July 2022, our Crolles site (France) hosted French President Emmanuel Macron, several government ministers and European Commissioner Thierry Breton for the launch of the French 'Electronique 2030' program. The program is part of an investment plan that aims to maintain France's position as a leader in the global electronics sector and address current and future challenges in electronics, from upstream research to applications, notably linked to digitalization, electrification and decarbonization.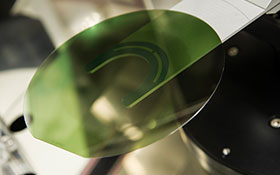 Silicon carbide substrate manufacturing facility in Italy
ST is building an integrated silicon carbide (SiC) substrate manufacturing facility in Catania (Italy). The project will support increasing demand from customers for SiC devices across automotive and industrial applications as they transition to electrification and seek higher efficiency. The facility will be the first of its kind in Europe for the volume production of 150mm and 200mm SiC epitaxial substrates, integrating all steps in the production flow. Initial production is expected to start in 2023.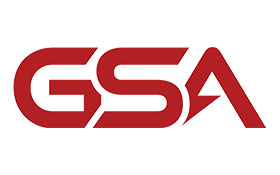 ST joins Global Semiconductor Alliance
Our President and CEO, Jean-Marc Chery, was welcomed to the board of directors of the Global Semiconductor Alliance (GSA) in October 2022. The GSA board assists in steering the organization's vision of providing a comprehensive global perspective and commitment to fostering collaboration, innovation and integration for the industry and across the ecosystem.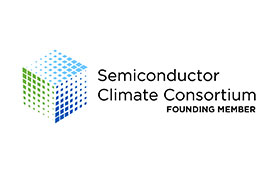 Semiconductor Climate Consortium
ST was among the founding members of the new Semiconductor Climate Consortium in November 2022. The group was formed by over 65 companies across the semiconductor value chain to accelerate the ecosystem's reduction of greenhouse gas emissions. Founding members have affirmed their support of the Paris Agreement and are aligned on the need to drive climate progress within the semiconductor value chain.