Innovation
We believe innovation is the fuel that drives our sustainability and growth.
US$1.9
billion invested in R&D
597
patents filed in 2022
186
active R&D partnerships
Innovation is a driving force that fuels our growth and helps us achieve our business objectives: creating technology-driven products that solve real-world problems and contribute to a more sustainable future.
We believe technology plays a key role in helping to solve environmental and social challenges. In 2022, we invested US$1.9 billion in research and development (R&D) to support innovation, representing 12% of our net revenues.
How we innovate
Building an internal framework
We view innovation as a collective task. We have therefore developed an ecosystem to initiate, develop and sustain innovation throughout the Company and beyond.
Innovation Office
Our Innovation Office provides a framework for accelerating innovation processes and searching for disruptive technologies and applications. Its mission is to create both internal and external innovation opportunities by connecting emerging market and technology trends with our internal technology expertise.
Under the guidance of our Innovation Office, our Technology Council's mission is to review the most advanced R&D activities and develop a three-to-five-year roadmap. The council is supported by world-leading academic and industrial experts in technologies relevant to our business. I 3-3 I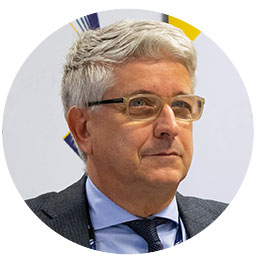 Alessandro Cremonesi
Executive Vice President, Chief Innovation Officer,
General Manager, System Research and Applications
Innovation is in our DNA. To sustain our future growth in a rapidly evolving environment, we are strongly accelerating our innovation rate by leveraging our internal and external capabilities. By continually developing, importing and delivering innovation, ST is at the center of a global innovation ecosystem that we nurture to accelerate global sustainable growth. Our Innovation Office drives this approach. It involves the whole of ST and our network of partners in a holistic process – what we call our 'deeply nested innovation model'."
We also established cross-functional teams to contribute to breakthrough innovation in priority areas and support our business and sustainability objectives. These teams facilitate knowledge sharing between both internal and external innovators, including networking activities with startups, academia, and R&D leaders.
Internal technology expertise
Over 9,000 employees work in R&D and design. This includes more than 800 technical staff members who are recognized for their advanced expertise.
This community drives our most advanced innovations, enabling us to develop new technologies and helping to foster R&D partnerships with prestigious universities and partners worldwide. Our expertise is recognized externally through our involvement and contribution at key scientific conferences. In 2022, ST participated in 250 scientific and technical conferences, with over 700 lectures by our staff.
Our sites around the world are helping to nurture the entrepreneurial spirit of our employees through our fab labs and hubs that help to connect our technical employees within local innovation ecosystems.
In 2022, we were named a Top 100 Global Innovator™ by Clarivate™, recognizing our position among the world's most innovative organizations.
Leading-edge technologies
The focus of our innovation and the evolution of our technology is centered on three long-term trends reshaping industry and society and supporting the transition to a more sustainable world. These trends are:
Smart mobility
Power and energy management
Internet of Things (IoT) and connectivity
Thanks to our wide portfolio of patents and strong pipeline of innovation, we are one of the few semiconductor companies mastering a very broad range of chip manufacturing technologies. In 2022, we filed 597 patents, an increase of 10% on the previous year. See more details about our technologies on www.st.com.
In 2022, we announced the expansion of our operations in Catania (Italy) with an integrated silicon carbide (SiC) substrate manufacturing facility to be built alongside the existing SiC device manufacturing facility. SiC is a compound semiconductor material with intrinsic properties providing superior performance and efficiency over silicon. The facility will be the first of its kind in Europe for the volume production of 150mm and 200mm SiC epitaxial substrates, integrating all steps in the production flow. This development will support the needs of automotive and industrial customers in their shift to electrification and higher efficiency.
Artificial intelligence
ST is a leading provider of diversified software and hardware artificial intelligence (AI) solutions for tiny devices, such as sensors and microcontrollers.
Our AI solutions range from sensing, through embedded computing to actuation, supporting customers in shaping smarter products in sectors such as personal electronics, industrial, and automotive.
In 2022, we continued to develop our AI ecosystem by releasing multiple, incremental versions of STM32Cube.AI and NanoEdge AI Studio. STM32Cube.AI now supports Deeply Quantized Neural Networks (DQNN), a highly innovative feature that reduces the inference time and memory requirements of neural networks.
We also opened a new AI competence center specialized in the development and support of the NanoEdge AI Studio tool in Toulon (France). It adds to our other AI competence centers around the world. This is part of our ongoing efforts to simplify access to embedded AI technologies and their integration into industrial and consumer equipment.
Furthermore, to strengthen our early investment in the MLCommons Tiny working group that began in 2020, we became an official member of MLCommons. This open engineering consortium is dedicated to accelerating innovation in machine learning. It focuses on industry benchmarks, datasets, and best practices to accelerate the market adoption of tiny devices.
FOCUS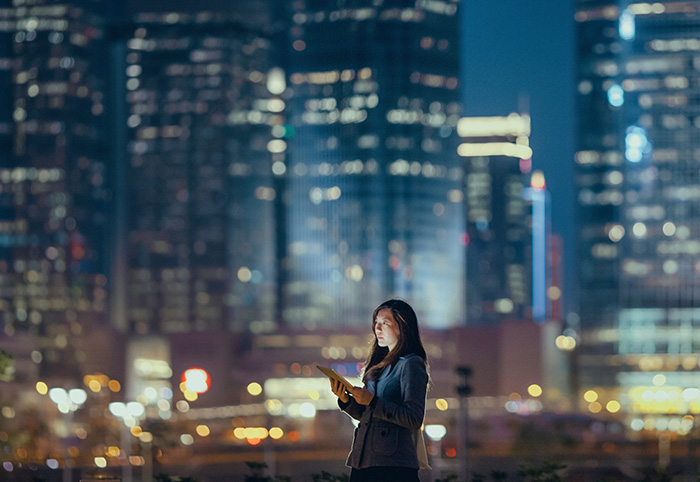 Launching our Intelligent Sensor Processing Unit
In 2022, we launched our Intelligent Sensor Processing Unit (ISPU), which combines a Digital Signal Processor (DSP) for AI algorithms and a MEMS sensor interface on the same silicon.
These smart sensors are able to sense, process and take action, offering seamless transactions with no discernible distinction between online and offline. ISPU also enables local decision-making, while substantially saving space and reducing power by up to 80%. This technology reflects the 'Onlife Era', where technology and everyday life come together.
AI training, machine learning, and the resulting neural network can run within the sensor itself. This enables 'in-the-edge AI' where, for example, smart inertial devices can perform advanced motion-detection functions within the sensor. This occurs without interaction with the external microcontroller and allows substantial power saving at the system level.
Innovation ecosystem
Recognizing the importance of partnerships in the innovation process, we build strategic alliances, engage in bilateral research cooperation, and participate in standardization bodies. Overall, we were involved in 186 active R&D partnerships in 2022.
External partnerships
We continued to develop our program of external partnerships. These bring together industry leaders from along the value chain to accelerate innovation, mainly in the automotive and industrial sectors, and diversify our scouting process in the smart mobility sector.
In 2022, the Important Project of Common European Interest (IPCEI) on Microelectronics successfully completed its technical activities in France. This was part of a French 5-year public-private strategic support program, called Nano 2022.
Thanks to Nano 2022, ST achieved major results in cutting-edge technologies for efficient computing, local data storage security, advanced connectivity, efficient power supply, novel and versatile optical sensors, efficient and faster data transmission, and connection. These technologies enable emerging applications in the automotive, IoT, industrial, security, space and aeronautics downstream markets.
The IPCEI program is still running in Italy, with additional objectives for technologies and products to be achieved by the end of 2024 on energy efficient chips, power semiconductors, and smart sensors.
We continually nurture our open innovation ecosystem through a range of programs.
ST Partner Program raises the profile of authorized high-quality partners, showcasing their products and services through our website. We have more than 300 partners, including startups.
Proof-of-Concept (PoC) Centers provide coworking spaces for small and medium-sized enterprises to speed up their proof-of-concept phase.
Startup Entrepreneurship Program provides tailored incubation services, including hosting, technical support, and mentoring, to help commercialize designs by the hosted startups.
ST-Up accelerator program supports hardware and technology startups through an 18-month, five-step process.
Accelerators – we collaborate with accelerator initiatives such as Motor Valley and Startup Autobahn within the Plug and Play ecosystem.
Incubators – we work with a global network of expert partners, such as Software République, Silicon Catalyst and e-novia.
To develop our partnerships, we continually engage in scouting activities. ST business leaders, R&D managers, as well as young talent are involved in the technical and marketing selection process. In addition to our own initiatives, we benefit from the scouting capabilities of a worldwide network of external partners, supported by our regional competence centers and fab labs.
In 2022, we partnered with over 70 startups, an increase of 50% on 2021. We also improved our process for managing the startup lifecycle to further enhance our capability to drive successful partnerships.
A notable event in 2022 was the 'Future of Mobility' event we jointly hosted with the US-based Plug and Play Tech Center. The event took place in Catania (Italy) and brought together more than 150 leaders from the global mobility industry to discuss topics such as electrification, sustainability, radars, and digital twins. The aim was to increase and broaden innovation to shape future mobility solutions through a holistic, partnership approach involving both large players and startups.
Thanks to these programs, we are constantly exploring new sustainable solutions and enabling responsible applications for safer, greener, and smarter living (see Sustainable technology) via a model that supports both a push (inside-out) and pull (outside-in) approach to innovation.
Contributing to the Sustainable Development Goals
Our commitments and programs as described above contribute to:
SDG target 9.5 – Enhance scientific research, upgrade the technological capabilities of industrial sectors, and increase private research and development spending.
| | | |
| --- | --- | --- |
| 2025 sustainability goal | Status | Comments |
| SG1: Generate at least 20% of our revenues from new product lines by 2025. | | 13% |