Talent Attraction and Engagement
Talent Attraction & Engagement
Our Ambition
Offer the best employee experience in all the locations where we operate.
2025 GOAL
Employee engagement rate
+10
points above country norms
202010/13 countries
China, Germany, Italy, Japan, Korea, Malaysia, Singapore, Switzerland, Taiwan and USA.
Our aim is to be recognized as a market-leading employer with a dynamic, innovative culture built around a strong spirit of enterprise, cooperation, responsibility and leadership. Our strategy for attracting, recruiting and retaining talent is a core element of our business growth ambitions. I 103-1 I
Reinforcing our talent pool
The success of our business strategy relies on recruiting and retaining the best talent available.
Creating an engaging candidate experience
In 2020, we launched our dynamic new employer branding and strengthened our communication on social media to reinforce attractiveness and visibility as an employer of choice, and to promote our employer value proposition (EVP). Our EVP is based on four pillars:
one ST everywhere
shaping tomorrow's world
embracing our values
growing people
We used digital solutions, such as optimizing the use of job boards and online networks, to make our offers visible to the best talent. We built strategic partnerships with universities and engineering schools to ensure a regular flow of new candidates, while also establishing education pathways to develop future competencies. At the end of 2020, we had more than 20 strategic partners and over 100 sourcing partners throughout the world.
>20
strategic partnerships with universities
Another priority of our strategy is to create an engaging candidate experience with best-in-class practices, based on feedback from candidates.
In 2020, we hired more than 2,100 exempt(1) employees, covering replacements and new hires, and adapted our practices to a digital format, enabling us to continue to deliver a great hiring experience despite the COVID-19 pandemic. One example is the innovative digital onboarding at our Greater Noïda site (India) (see Focus).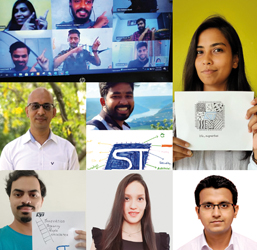 Focus
How ST India welcomed new hires during the lockdown
When India went into lockdown in March 2020, our local talent acquisition teams had to quickly adapt the recruitment process to create a 100% digital welcome program.
We had to find new solutions to provide a great onboarding experience to new hires. The challenge was to keep the human touch: the hiring managers shared a virtual coffee break with the newcomers, and we provided a welcome kit including digital posters on the Company's culture, work environment, ethics, and values. We also took care to dispatch laptops to them in advance.
"Although our digital process works very well, nothing can replace face-to-face integration. We need human contact, exchanges, smiles, moments of life together at ST! Yet, we've learned that some onboarding practices are more efficient digitally and must start before day one," says Parminder Singh Walia, head of the ST talent acquisition team in India.
Enhancing the employee experience
We aim to deliver the best employee experience. Our ambition is to offer a quality working life and employee well-being, including a safe, creative, collaborative, diverse and inclusive culture and environment.
Top employer
in France and in Italy
The associated programs and measures we put in place allowed ST to be certified 'Top Employer 2021' in France, and ST Italy to be among the winners of 'Top Job – Best Employers 2021' and be ranked as one of the 10 most attractive companies in the electronics sector.
In 2020, we enhanced our agile and flexible working arrangements, maintaining full employment and working time for all our employees, either on site or at home. We communicated frequently with all our employees, and successfully rolled out digital business applications and knowledge sharing platforms to more than 15,000 employees working remotely.
81%
of employees recommend ST as a great place to work
Our 2020 employee engagement survey shows a very positive perception of our initiatives:
81% of employees recommend ST as a great place to work, 4 points up on 2019
89% of employees consider they received relevant information about the COVID-19 situation
81% of employees believe they had the required flexibility to do their job
82% of employees feel safe in their working environment
Employee survey – engagement rate (%)

2016

2017(1)

2018

2019

2020

Overall participation rate

82

NA

87

90

89

Individual engagement index

72

NA

77

79

82

Organizational agility index

63

NA

66

68

73

Goal alignment index

73

NA

77

80

82

| | |
| --- | --- |
| (1) | No survey conducted in 2017. |
Developing and supporting our talent pool
In our very high-tech and growing business context, strengthening and continuously developing all talents is crucial to our sustainable success.
In 2020, we continued to reinforce a culture of continuous feedback and pursued all our programs that support employee career development and help to maintain a high level of organizational performance. We particularly focused on a top management talent review to ensure proactive and effective succession plans were in place. I 103-2 I
Average of
44
hours of training per person
The provision of learning opportunities was unavoidably reduced. We focused on mandatory courses such as health and safety, and courses covering strategic business needs and business continuity. Nevertheless, we still managed to deliver an average of 44 hours of learning per person in 2020, compared to 50 hours in 2019.
In this exceptional year, we made available a set of tailormade initiatives under a new program called 'Practice Remotely Our Unique Determination', or PROUD.
One of these initiatives was a webinar called 'Communicative Leaders: framing the future'. It provided site directors, managers and executive management the opportunity to benefit from coaching on how to communicate a vision for the future using digital communication channels. More than 190 leaders participated in the virtual sessions in less than six weeks.
>300
online coaching coffee breaks
We also set up two daily one-hour coaching 'coffee breaks', led by an internal coach, to explore issues around managing people remotely, including teamworking, loneliness and productivity. By the end of 2020, we had run 272 individual coffee breaks and 32 team coffee breaks. We received very positive feedback from people who took part in these sessions (see quote).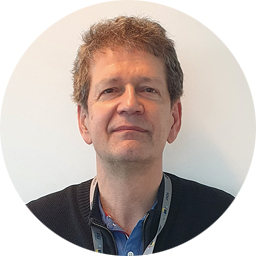 Yves Moulart
Director, Development & Innovation, SMD Zaventem (Belgium)
At ST Zaventem, a small site of engineers skilled in secure embedded software and cryptography, we like to regularly keep in touch with colleagues located at other sites. Even during the pandemic, thanks to the collaborative tools that were made available, especially the Teams video calls, the 'coffee break' sessions and the 'Framing the future' training, we managed to maintain – and even improve – our engagement and quality contacts with local and remote teams."
We also diversified our learning offer with webinars and short e-learning sessions to help managers manage their teams remotely.
We redesigned long-standing classroom training to be delivered live online, including four of the six modules of our 'Leadership Augmented' program (Leadership in Practice, Communicative Leaders, Leading Innovation and Leading Change).
In addition to individual coaching and coffee breaks, the Corporate Coaching organization complemented its offer with a new team coaching program called 'Team-up', also available remotely. It aims to release the full potential of individuals to energize and strengthen teams and boost empowerment and effectiveness.
Getting the best from all our people
Getting the best from our people is essential to anticipate evolving customer needs, meet new market demands and successfully face business challenges.
Sustaining a high level of engagement
Employee engagement is a critical driver of organizational performance to achieve our business objectives.
The 2020 engagement survey again focused on individual engagement, goal alignment and organizational agility, but also included additional questions on how employees perceived the way ST has managed the COVID-19 pandemic, as well as open questions on overall employee experience.
85%
of employees are proud to work for ST
The participation rate was 89%, one point below the 2019 survey.
The overall engagement index stood at 82%, three points higher than 2019 and 12 points above the global industry norm(2).
85% of employees said that they were proud to work for ST, which is two points above 2019 and 19 points above the global norm(2). I 103-3 I
Recognition
Our Corporate recognition scheme – the 'STAR Awards' – continued as usual, despite the pandemic. We successfully organized the corporate ceremony in a digital format, allowing us to recognize more than 1,400 employees from 68 sites. After this event, the celebrations continued as each ST site found innovative ways to applaud all the winners locally.
Contributing to the Sustainable Development Goals
Our commitments and programs as described above contribute to:
SDG target 4.3 – Ensure equal access for all women and men to affordable and quality technical, vocational and tertiary education, including university.
(1) Employees who hold positions normally requiring graduate or post-graduate education and who are not eligible for overtime compensation.
(2) Electronics Equipment/Instrument Manufacturing norm.