Waste
Waste & Chemicals
Our Ambition
Strive for zero waste in landfill, reduce our consumption of chemicals and eliminate hazardous materials.
2025 GOAL
95%
of our waste reused and recycled
202088%
Managing our waste
A Company-wide approach
Our waste management program covers all the waste streams generated by our operations and activities. This waste includes hazardous substances, metals, packing, plastics, and other non-biodegradable materials. Our waste management strategy is based on reduction, reuse, recycling, elimination and treatment. It is driven by both local regulations and Company policy, with our sites being asked to respect the most stringent of these requirements. I 103-2 I
2020 performance
88%
of our waste reused, recovered or sent for recycling
In 2020, 88% of the waste generated by our operations was reused, recovered or sent for recycling. The waste sent to landfill increased from 3.4% to 6.0% compared to 2019, missing our target of sending ≤3% of waste to landfill. This lower performance is a consequence of the COVID-19 pandemic, as waste disposal suppliers at some of our sites suspended their activities during lockdown.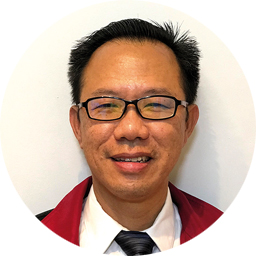 Hc Chew
EHS Manager Ang Mo Kio (Singapore)
It is important to optimize all waste treatment – from hazardous to organic – so one of our actions in 2020, called 'Zero food waste', focused on segregating organic waste and treating it on site. This reduced the associated carbon emissions from transporting and treating it at an off-site facility, reduced odors from storage and limited potential pest problems at the site. It has also been a great way to involve our employees and make them aware of the need to sort their waste."
Controlling hazardous substances
Our various manufacturing processes can generate hazardous or potentially hazardous waste, such as chemical substances and contaminated plastics. We pay particular attention to each type of hazardous waste (liquid or solid) that can impact the environment or people's health and safety (see Chemicals). We seek to identify the best solution from all available treatment technologies. In 2020, we identified 40% of our waste as hazardous, 95% of which was reused, recovered, or sent for recycling. The remaining waste was disposed of and treated locally by authorized companies.
Reducing waste at the source
The best waste is the waste we avoid. We apply this approach at all our manufacturing sites.
In 2020, our Ang Mo Kio site (Singapore) developed a comprehensive strategy to reduce solid waste. It includes reviewing and analyzing waste flows, refurbishing and relocating waste storage areas, labelling, communication and training on waste collection points and storage, and an innovative program called 'Zero food waste'. By implementing all these actions, the site expects to achieve 85% of waste recycled or reused by the end of 2021 vs 72% in 2020.
Our Shenzhen site (China) started a project in 2019 to introduce a phosphorous-free compound in a manufacturing process, leading to a reduction of 40,000kg of hazardous waste per year.
Towards a circular economy
Using waste to create value benefits the environment, people, and ST. Therefore, where possible, we look for opportunities to valorize the waste we generate.
For several years, we have been implementing various initiatives to find new uses for our waste.
Fluoride sludge is transformed into pellets for the metallurgy industry (see Focus).
Sulfuric acids are used for recycling batteries.
Spent resin and sludge are used in the cement and brick industry.
Deflashing waste powder and waste sludge are sent for precious metal recovery.
Electronic waste is dismantled; some parts are reused, and precious metals are recovered.
Solvents are sent for distillation and reuse.
Solvents are burned and the energy recovered.
Ammonia in wastewater is treated and used in agricultural fertilizers.
Landfill industrial waste is transformed into solid combustible material and used in cement factory furnaces.
Silicon wafer scraps are used for aluminum production used in the automotive, aviation and photovoltaic industries.
Paper, cardboard, plastics and wood are recycled.
Organic waste is transformed into compost.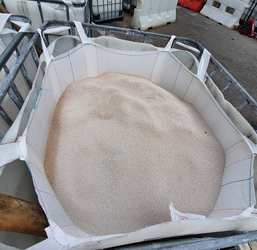 Focus
Fluoride wastewater transformed into pellets for use in other industries
At ST, we always seek to understand if a waste product can become a resource for another type of usage, inside or outside our industry. Our rinsing and cleaning operations generate wastewater containing fluoride. This wastewater must be treated to remove the polluting substance and meet stringent local regulatory limits, helping to reduce the impact of our activities on the environment.
In 2020, our Ang Mo Kio site (Singapore) collaborated with a waste disposal supplier to introduce a new way to process the sludge generated by the treatment of the fluoride wastewater. The change involves transforming the fluoride sludge into pellets that can be used in the metallurgy, cement or ceramic industries. It saves operation and disposal costs and, above all, it offers a new use for a waste which was previously sent to landfill, thus moving towards a circular economy.
Contributing to the Sustainable Development Goals
Our commitments and programs related to Waste as described above contribute to:
SDG target 3.9 – Substantially reduce the number of deaths and illnesses from hazardous chemicals and air, water and soil pollution, and contamination.
SDG target 6.3 – Improve water quality by reducing pollution, eliminating dumping and minimizing release of hazardous chemicals and materials, halving the proportion of untreated wastewater and substantially increasing recycling and safe reuse globally.
SDG target 12.4 – Achieve the environmentally sound management of chemicals and all wastes throughout their lifecycle, in accordance with agreed international frameworks, and significantly reduce their release to air, water and soil in order to minimize their adverse impacts on human health and the environment.
2020 OBJECTIVES

Status

Comments

≤3% waste in landfill.

6%
Objective maintained in 2021.