Customer Satisfaction
Quality
Our Ambition
Lead our market in terms of product quality, with no severe quality incidents, while meeting the most stringent customer expectations.
2025 GOAL
-75%
severe quality incidents*
* 2016 baseline
2020-89%
Customers are among our main stakeholders and are an important part of our value proposition. It is therefore vital that we build strong and trusting relationships with them, take their needs into consideration and serve them effectively, whether in relation to our product offering, the quality and reliability of our products and services, or our approach to the environment, health and safety, and social responsibility.
Two key enablers of customer satisfaction are product quality and continuous dialog. I 103-1 I
Driving satisfaction through quality
The objective of our three-year quality strategy is to be our customers' most valued and trusted partner through excellent quality, reliability and responsiveness. We aim to achieve this through customer focus, results-driven improvement programs and a sustainable culture of quality excellence.
Strengthening our quality culture
STRIVE for Excellence
program
Quality is the collective responsibility of all ST employees. To strengthen our quality culture, in 2020 we launched our STRIVE for Excellence program, where STRIVE stands for our values: Strength, Teamwork, Resilience, Innovation, Value and Expertise. The V of STRIVE, Value, means maximizing value for our customers in all our processes across the full product lifecycle. We held a Digital Quality Week around STRIVE for Excellence, including Company-wide webcasts from senior leaders.
To strengthen our focus on customer satisfaction, we also launched a new recognition scheme, with quality awards to recognize successes and significant improvements with customers.
Our approach to quality
These initiatives are part of our Company-wide quality program involving all ST organizations and encompassing all aspects of quality. The program leverages the quality organization and working model set up in 2019, with a cross-organizational Quality Steering Committee that drives our quality strategy.
Our quality and reliability focused approach to customers is also enabled by a framework that includes regular strategic customer review meetings (internal and external) and robust tracking of customer KPIs and scorecards.
This approach helps us build closer relationships with our customers, creating an environment for optimized exchange. As a result, we are better able to understand their needs and expectations and, through regular monitoring of performance and expectations, adjust and sustain our quality performance.
Management systems
Our quality approach is based on our Quality Management System (QMS), as documented in our Quality Manual. The manual details how we implement the processes to guarantee that our products meet or exceed the highest standards and customer requirements. I 103-2 I
ST adheres to internationally recognized quality management standards. We received our first Company-wide ISO TS 16949 certification in 2003 and it has been renewed every three years. Since 2018, ST has been certified IATF 16949:2016 and ISO 9001:2015, demonstrating our robust quality governance, effective QMS and quality compliance across the Company. I 103-3 I
Quality performance
Our overall quality performance improved significantly again in 2020 with positive results on our customer scorecards as well as our quality KPIs, an acknowledgment of our efforts and commitment to continuous improvement.
Quality

2016

2017

2018

2019

2020

Customer complaints

100

84

79

84

66

Cycle time to process failure analysis

100

97

88

98

102

Customer quality returns

100

40

35

105

45
Maintaining a continuous customer dialog
Customer satisfaction is enabled by a continuous, wide-ranging dialog with customers at all levels.
Support channels
There are many support channels available to our customers through which they can obtain information about our products or find an answer to any questions they may have about our business.
Our website (www.st.com), which provides a wealth of information and insights into ST customer solutions, including product brochures and flyers, product datasheets, application solutions, and short videos on key products and how they can help in application designs. Customers can even purchase samples and tools via our website.
>80%
of customers satisfied with online support service
ST online communities, dedicated to product groups or applications, which allow people to share knowledge and post questions to other members of the ST community.
Phone and online support that enables customers to contact us with their requests or concerns. More than 80% of our customers are satisfied with our online support service.
In-person and online seminars and training courses on our products, either hosted directly by ST or in partnership with third parties.
Regular newsletters to inform our customers and partners about new products and upcoming events, including seminars, conferences, webinars, and online courses.
Social media posts, YouTube videos, and blog posts.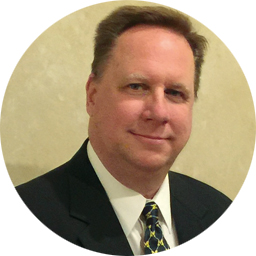 Brian Mielewski
Vice President of Quality, Region Americas
The COVID-19 crisis came upon us quickly, so we rapidly implemented our Business Continuity Plan to support our customers and continue to execute our R&D programs. Our customers immediately understood that we were well prepared due to our actions. During this period, we managed to keep all our manufacturing sites operational while maintaining the most stringent health and safety measures to protect our personnel. I believe our customers were very satisfied with our response to the challenges created by the pandemic, further strengthening their trust in ST."
Focus
Addressing customers' concerns about COVID-19
From the outset of the COVID-19 pandemic, it was clear that our customers had wide-ranging concerns about the potential impacts. They were apprehensive about the effect the pandemic could have on our business continuity. They were worried about possible delays in product deliveries due to supply chain issues with raw materials, production at our factories, and the logistics of shipping and delivering our products to their facilities. They also voiced concerns about any potential impact on the health and safety of our workers. As part of ST's Business Continuity Plan, we formed a dedicated communications team to collate and respond to customer concerns. All enquiries were organized and categorized, enabling our communications team to systematically prepare and distribute, in a timely manner, appropriate responses to every customer.
Close relationships at all levels
Dialog with larger customers is managed by dedicated cross-functional teams, composed of representatives from Sales, Logistics, Technical Support, and Quality. Through daily interaction with their customer, the entire team forms a deep understanding of the customer, their internal processes, and preferences. They also form relationships with customer personnel that enable a high level of trust and satisfaction. Relationships are fostered between ST executives and key customer executives, helping to further strengthen trust and satisfaction at the highest levels.
Dialog with smaller customers is managed by the ST Distribution Partner Network. The Partner Network is composed of a large group of ST personnel and distribution partners covering all the regions of the globe. Network personnel regularly visit customers to assess opportunities, present our product portfolio, and assist with design-in activity.
A continuous dialog is maintained to understand, assess, and address customer needs and concerns.
Sustainability – a growing expectation
Driven by better awareness and regulatory changes, customers are increasingly interested in our sustainable practices in our operations and our supply chain. Over the last few years, we have adopted a proactive and transparent approach to satisfying customers' sustainability expectations. As a member of the Responsible Business Alliance (RBA), all our manufacturing and major sites undertake an annual self-assessment questionnaire on labor and human rights, safety, ethics and environmental topics. All our manufacturing sites are subject to RBA third-party audits (see Labor and Human Rights). We share the results of these questionnaires, audits and corrective actions with our customers through the RBA platform or via our online support.
Audit results shared
with customers
Transparency and traceability about the positive environmental and social impacts of the products they buy is fundamental for our customers. This includes information on product compliance, material declaration, working conditions, environmental impact and the sourcing of materials. We publish and provide relevant information for customers on our website www.st.com or through online support.