Labor and Human Rights
Labor & Human Rights
Our Ambition
Be recognized as a leader in labor and human rights and apply a zero tolerance approach to forced labor.
2025 GOAL
100%
of ST manufacturing sites recognized by external international bodies
202018%
2/11 sites with RBA Platinum recognition.
We are convinced that companies play a vital role in implementing and respecting labor and human rights. Our programs, therefore, aim to ensure all our employees are treated with respect and dignity. I 103-1 I
The main management systems and programs we use to monitor, control and improve labor conditions in our operations are:
a corporate Labor and Human Rights policy deployed throughout our operations (available on www.st.com)
an internal audit program on labor and human rights, targeting our 11 main manufacturing sites
Responsible Business Alliance (RBA) human rights self-assessments at all major ST sites, and third-party RBA audits at all our manufacturing sites
multiple initiatives to uphold human rights and mitigate risks in regions where we operate (see Focus)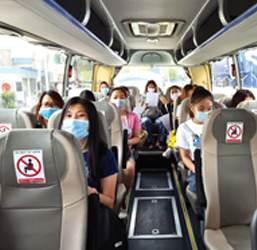 Focus
Supporting our employees during the pandemic
In the context of the pandemic, we stepped up our efforts to protect employees whose living conditions may have been affected by directives from local authorities. As such, we implemented many initiatives to support our most vulnerable employees, and we increased our focus on maintaining salaries, holidays and benefits.
Some of our sites went further and implemented additional exceptional measures. For example, at our Muar site (Malaysia), we granted salary advances to the most economically vulnerable categories of employees, in particular migrant workers, to anticipate their basic needs and enable them to better prepare for lockdown measures. We also made sure that similar protection measures were put in place by our direct suppliers in Malaysia, for whom we introduced a training program to increase awareness of our social standards.
Our Ang Mo Kio site (Singapore) supported migrant workers from Malaysia who decided to stay in Singapore when the border closed by providing free hotel accommodation, together with a cost of living allowance (S$200) to cover the increased cost of living in Singapore. For Malaysian workers who couldn't cross the border to work, the site provided financial assistance of S$350 per month.
Comprehensive
due diligence
process
Integrating human rights into our business
As a member of the RBA since 2005, we enforce the most advanced standards and have a comprehensive due diligence process that covers nine core principles.
Our approach
We apply a process based on RBA methodology to continually improve our management system.
We commit to the RBA code of conduct and integrate its principles into our internal policies.
We conduct regular risk assessments.

Our external risk assessment is based on inherent risks of activity and location.
The RBA self-assessment questionnaires, which our sites complete each year, cover 89% of our employees. In 2020, our sites scored from 90 to 96/100, which is better than the industry average of 88/100.
81%
of employees covered by audits
We run audit programs covering our 11 main manufacturing sites (81% of our employees).

Our internal audits monitor compliance with our Labor and Human Rights policy and are followed up with timely and adequate corrective actions.
RBA (VAP 6.0) third-party audits are conducted on each manufacturing site every two years with appropriate audit follow-up, including corrective action plans and closure audits. Our average RBA audit score is above the industry average:

+44

points in initial audits and

+23

points in closure audits.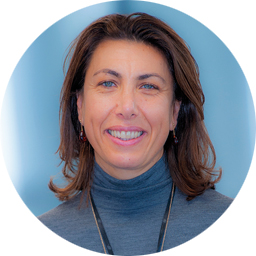 Sara Tedeschi
Sustainability Champion, Senior Specialist, ADG Quality and Reliability, Catania (Italy)
To continue our socially responsible journey, despite the pandemic, we used the opportunity of the labor and human rights internal audit program to capitalize on our strengths and transparently share our weaknesses in order to improve our performance. The feedback and results we received will help us to continue moving forward in line with our new slogan: #noinoncifermiamo, or #nothingcanstopus!"
Our risks and actions
In 2020, the main risks we identified and the preventive and corrective actions we implemented are described in the table below. I 103-2 I
Description

Actions implemented

Control and monitoring of working hours (including rest days) during the COVID-19 pandemic

Reinforced monitoring of working hours and rest days. Recruitment and training of additional workers.

Supplier responsibility

Reduction and monitoring of working hours for security guards.

Management of student allowances

Preparation of detailed corporate guidelines for student allowances to be deployed in 2021.
Our main third-party audit results
In 2020, our Agrate (Italy) and Ang Mo Kio (Singapore) sites scored 194/200 and 187/200 respectively in their initial audits, well above the industry average of 142/200, highlighting the low level of risk. In an initial audit at Calamba (the Philippines), no priority or major non-conformances were identified, and the audit score was 184/200.
Regarding closure audits, our Tours and Rousset sites (France) were the best performers with full compliance, for which they received RBA platinum recognition. Our other sites Crolles (France) and Catania (Italy) received RBA silver and gold recognitions respectively, and improvement plans have been implemented to reinforce existing social management systems. I 103-3 I
RBA audit results for ST operations in 2020 SDG 8.7

Number of audits: 9

Labor, Ethics and Management systems

Environment, Health and Safety

Total of major non-conformances

Total of major non-conformances

Working hours

3

Emergency preparedness

2

Supplier responsibility

2

Occupational safety

2

Machine safeguarding

1

Food, sanitation and housing

1
Monitoring our performance
Due to the COVID-19 pandemic, a significant number of third-party audits were postponed to the end of 2020 or beginning of 2021.
However, our internal audit program, related to labor and human rights, has been strengthened and standardized to help our sites improve their performance. All major sites will be audited at least every two or three years.
RBA
audit results above industry average
In 2020, we conducted four labor and human rights internal audits, all of them remotely. These audits highlighted any gaps at the sites, helped to identify areas that required improvement, and strengthened the local social responsibility culture. For 2021, we aim to audit all our other manufacturing sites.
In March 2020, we launched STCare (see Health and Safety), a new employee assistance program that aims to address psychosocial risks and improve well-being. All employees have direct access to the platform and can anonymously use the services offered, including a psychological assistance hotline, a self-assessment center, an awareness page, and e-consultations.
Contributing to the Sustainable Development Goals
Our commitments and programs as described above contribute to:
SDG target 8.7 – Take immediate and effective measures to eradicate forced labor, end modern slavery and human trafficking, and secure the prohibition and elimination of the worst forms of child labor.
SDG target 8.8 – Protect labor rights and promote safe and secure working environments for all workers, including migrant workers, in particular women migrants, and those in precarious employment.
SDG target 17.16 – Enhance the global partnership for sustainable development, complemented by multi-stakeholder partnerships that mobilize and share knowledge, expertise, technology and financial resources, to support the achievement of the sustainable development goals in all countries, in particular developing countries.
2020 OBJECTIVES

Status

Comments

100% of priority, major and minor non-conformities closed during the RBA closure audit.

93% of findings closed (26/28).
Objective maintained in 2021.

100% of all manufacturing sites audited every 2 years for compliance with the RBA standard.

73%. 8/11 manufacturing sites audited.
Objective maintained in 2021.