Foreword by our President and CEO
Since early 2020 the world has changed, with the pandemic reshaping how we live, work and communicate. During these tough times, ST showed resilience at all levels. First, we have relentlessly focused on protecting the health and safety of our 46,000 employees, with equipment, extensive health and safety advice, and regular communication. In turn, ST employees demonstrated their commitment to the communities in which they live and work with multiple cash and in-kind donations to support local hospitals and stakeholders. They also maintained a high level of engagement despite the personal and professional constraints of this period.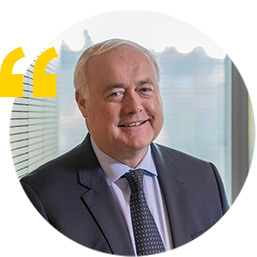 All of us worked, and are working hard with our suppliers, partners and customers to protect both the short and the longer term, in a situation where global supply chain tension is strong across all end markets. Our technologies are enablers of smart mobility, advanced power & energy management across all types of systems and are at the heart of next-generation devices and communication infrastructure. They play a key role in helping our customers address their opportunities and solve their challenges, and we believe they also bring an important contribution to overcome global environmental and social challenges. Addressing these opportunities and challenges paves the way to long-term sustainable and profitable growth for ST, for shareholders, for customers, for all our stakeholders globally, and more broadly for society.
Providing innovative and sustainable solutions to our customers implies being an independent device manufacturer mastering the entire value chain: sourcing raw materials, investing in technology and product R&D for innovation, ensuring reliable and secure manufacturing, and relentlessly pursuing product quality. In 2020, we continued to progress with our strategic programs based on Silicon Carbide and Gallium Nitride, and with the construction of the 300mm fab in Agrate (Italy), which will manufacture power management devices. We continued to invest in R&D and open innovation with 143 partners worldwide to build the future. We are also improving our social and environmental footprint at every stage of the product lifecycle, with 63% of new products identified as responsible and 18.5% of total revenue derived from responsible products.
We devote significant effort to lowering the impact of our operations. We continue to implement technical solutions to reduce emissions, reuse water, recycle waste and progressively switch to renewable energy sources. We have made further progress in reducing Greenhouse Gas (GHG) emissions, with another 19% reduction compared to 2019 in absolute terms. Our longstanding efforts across many areas, detailed in this report, were recognized again in 2020, with ST securing a CDP A list ranking and continued presence in the DJSI World index as well as in other key ESG rankings and international certifications.
Last year I wrote to you about my commitment to take the necessary actions to progress even faster in achieving ST's strong sustainability ambitions. In December 2020, we took an important step to accelerate our efforts with the announcement of our commitment to become carbon neutral by 2027. To achieve this very ambitious target we have built a comprehensive program and will mobilize the support of expert partners and stakeholders in a collaborative approach. In 2021 we start this journey together, and we will be reporting regularly to you on our progress.
Jean-Marc Chery
President and CEO
I 102-14 I