Awards 2020 overview
Each year, we receive external recognition for our sustainability practices. Here are some examples.
Top Business Leader award
The French magazine 'Challenges' ranked ST President and CEO Jean-Marc Chery Top Business Leader for his commitment to gender equality and climate change issues. The award was made in conjunction with ODDO BHF bank and the Statista Institute, using data from the French Ministry of Labor, based on corporate performance criteria such as growth, profitability, greenhouse gas emissions, gender equality and resilience.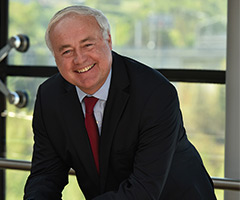 Most honest and socially responsible enterprise
Our Shenzhen site (China) participated in a corporate social responsibility evaluation by the local authority, which consisted of a comprehensive review of the company's social responsibility development and implementation. The experts who conducted the on-site review and interviews rated the site as a four-star enterprise and as the 'most honest and socially responsible enterprise' in 2020.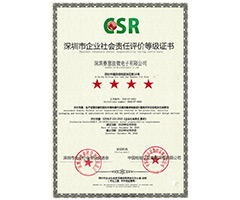 Top Job – Best Employers
ST Italy is among the 300 winners of Top Job – Best Employers 2021 and has been ranked as one of the 10 most attractive companies in the electronics sector. The award comes from a study in 2020 based on social listening, an innovative methodology that analyzes fragments of online texts on topics such as training, work atmosphere, personal and professional development, career progression and sustainability.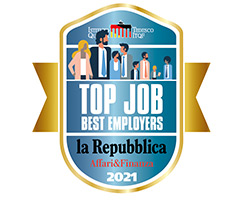 Workplace Health Promotion award
Our Agrate and Castelletto sites (Italy) also received the Workplace Health Promotion award. This award from the Lombardy region and Confindustria recognizes the application of European Network for Workplace Health Promotion standards, as well as our commitment to improving health and well-being in the workplace.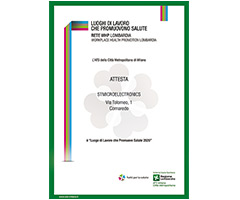 Double reward from Logitech for sustainability leadership
Logitech rewarded ST for sustainability leadership, recognizing us as a leading company in the semiconductor industry with an outstanding commitment to sustainability. ST also received a special award for support during COVID-19, highlighting our exemplary response to their demand despite supply and value chain disruptions caused by the pandemic.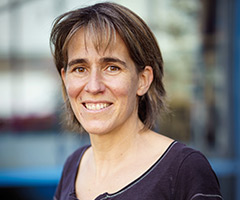 Woman Engineer of the Year
The Conference of Deans of French schools of Engineering (CDEFI) awarded Cécile Charrel, engineer at our Grenoble site (France) Woman Engineer of the Year. The award recognizes women's commitment to their profession and to society. It also highlights the strong engagement of Cécile, who is the co-founder of an association that introduces girls and boys to science through hands-on workshops.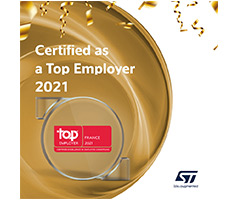 Top Employer Certification for France
The Top Employers Institute has recognized ST as a Top Employer 2021 in France. This certification, based on an evaluation in 2020, recognizes our programs for professional integration and inclusion, equal opportunities, employability, and quality of life at work.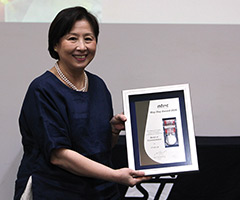 May Day award
Jit Lee Lim, Human Resources Director at our Ang Mo Kio site (Singapore) received the Medal of Commendation (May Day Awards 2020) during the National Trade Union Congress of the United Workers of Electronics & Electrical Industries of Singapore. This award recognizes Jit Lee's commitment to the fair remuneration of employees and for developing structured training programs.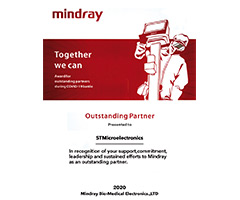 Outstanding Partner award
In July 2020, ST received an Outstanding Partner award from Mindray for its partnership and support during the COVID-19 pandemic. We partnered with Mindray to address the lack of medical equipment, including medical ventilators and blood infusion pumps, by supplying semiconductors such as microcontrollers, EEPROMs and discrete devices, which are fundamental components of medical applications.
ST women win in industry
Hélène Wehbe-Alause, Director of R&D at our Crolles site (France), won the R&D Woman of 2020 award from the French magazine 'Usine Nouvelle'. The award recognizes her problem-solving skills, her technical expertise in integrated circuits and micro-sensors, and her operational excellence.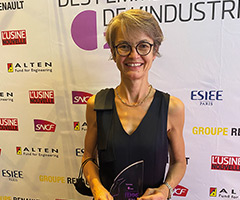 Environmental award
Our Agrate and Castelletto sites (Italy) were recognized, by the Italian Ministry of the Environment, for the best EMAS promotion initiative for stakeholders, for creating an environmental statement to raise awareness among young people. Aimed at children between 9 and 10 years old and distributed in schools, it provides certified data and information on ST's environmental commitments and performance.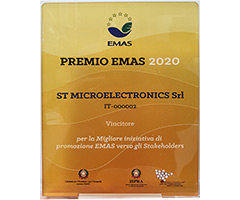 Green commuting trophy
Our Grenoble site (France) was awarded first prize in its category (more than 1,000 employees) in the 10th edition of a mobility challenge organized by the Auvergne-Rhône-Alpes region. The award demonstrates the site's commitment and actions to encourage green commuting.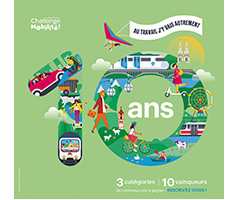 CSR regional award
Our Rousset site (France) tied for first prize at the 2020 Corporate Social Responsibility Awards organized by the Provence-Alpes-Côte d'Azur region. This award recognizes the site's efforts and results in protecting the environment, developing the skills of its employees and supporting the ecosystem through economic development and solidarity initiatives.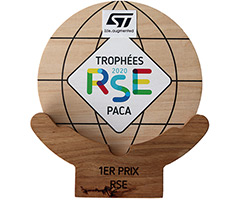 Equality trophy for Bouskoura
Our Bouskoura site (Morocco) received a certificate of excellence at the fourth edition of the Professional Equality Trophy, organized by the Ministry of Employment and Professional Integration. This recognizes the site's commitment to professional equality and equal opportunities across a broad range of areas, including promotion and career development, recruitment of female engineers, and women in management positions, as well as our Women in Leadership program.