Community and Education
Community & Education
Our Ambition
Prepare the future by supporting education in schools in all the countries where we operate.
2025 GOAL
STEM* education partnerships in
20
countries
* Science, Technology, Engineering and Mathematicss
20207/20 countries
China, Czech Republic, France, Germany, India, Italy and Singapore
We have a longstanding commitment to investing in the communities where we operate. We encourage our employees to engage in local community programs aligned with our sustainability strategy and with the local, operational and cultural context.
In addition to our general engagement, we also invest in the future of the communities we support, sharing with young people our passion for science and electronics in our 'STEM your way' program (see www.st.com/STEMyourway). I 103-1 I
This year, facing the COVID-19 pandemic, we have contributed and donated to protect local communities, while continuing our efforts to engage and support young people.
Since 2012, we have measured our community involvement following the Business for Social Impact methodology (formerly London Benchmarking Group), a global standard to measure and manage corporate community investment. I 103-3 I
2020 achievements
In 2020, we implemented 340 community initiatives worldwide. These included:
35 sites in 20 different countries
114,324 hours of Company time (43% of the total contribution)
US$2,141,500 in cash donations
US$3,535,500 in in-kind donations
This year, the global breakdown has been very different to previous years due to the pandemic, with 32% of initiatives supporting healthcare.
Despite many events being cancelled due to lockdowns around the world, supporting education continued to be an important focus, accounting for 43% of our overall contribution.
Donations linked to the pandemic
US$3.7m
donated to communities during the pandemic
Most of our sites contributed to help local communities respond to the challenges of the pandemic. Overall, ST donations reached a value of US$3.7 million (36% of our total contribution). This comprised:
3,126 volunteer hours
US$926,500 cash
US$2,645,500 in-kind donations
Our in-kind donations included surgical and FFP2 masks, protective clothing, hand sanitizer (produced at our manufacturing sites), face shields and protective glasses (see Facing the pandemic)
We launched many fundraising initiatives across all our sites, particularly in Italy, which was severely affected by the pandemic. The aim was to help raise funds for local hospitals and support people in need. Employees raised over US$275,000.
Our Asia Pacific sites, along with distribution partners across the region, launched a fundraising initiative during the Asia Pacific Distribution Sales Convention 2020 that raised more than US$260,000 from our distributors and US$70,000 from ST Asia Pacific. The money has been distributed to associations and hospitals across Asia to help combat the pandemic.
In addition, our Singapore sites sponsored two initiatives, the SeniorsConnect Digital Skills Program and the Social Prescribing Program of SingHealth Community Hospitals. These programs help seniors to stay in contact with their families and friends while at home through the use of digital tools. Both programs will continue in 2021.
STEM your way
STEM
initiatives go virtual
Our 'STEM your way' program is about raising awareness in young people about the importance of science, technology, engineering and mathematics (STEM) subjects and inspiring them to explore STEM-related careers.
Although the pandemic stopped most on-site programs and school visits, many sites transformed their initiatives into digital events, which provided an opportunity to reach more students in the area. I 103-2 I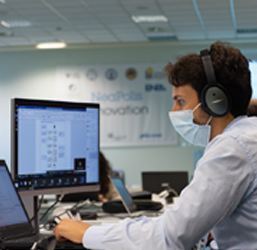 Focus
NeaPolis Summer Campus moves online
NeaPolis Innovation Summer Campus is an annual challenge for university engineering students to encourage them to use ST's 32-bit microcontrollers. Due to the pandemic, the seventh edition of the event in 2020 took a new approach. Held from August 27 to September 06, the campus took place entirely online, including the annual HackFest.
A record 180 students from 16 universities, mainly in Italy, were mixed into randomly formed teams of four to six students. ST tutors organized and led the event, including defining and ordering the component kit in advance and ensuring it was sent to participants' homes by courier.
The tutors, who were all located at the ST Naples site (Italy), gave students continual support. There were also many competitions, with prizes awarded daily.
It was a productive experience for all, not only in terms of the training, but also for the opportunity it gave students to experience team working. Despite the difficulties of remote learning, everything was managed successfully, with both students and tutors working together in a virtual environment.
For example, our Catania and Agrate sites (Italy) and Greater Noida site (India), which are involved in partnerships with universities, developed a number of virtual technical seminars for university students, while our Napoli site (Italy) transformed its 'NeaPolis' Summer Campus into a virtual event (see Focus).
In France, we went one step further in engaging with the education sector to encourage the use of our products in the curriculum by establishing a partnership with the CGénial Foundation. We jointly developed a pilot project around electronics boards based on STM32 microcontrollers to strengthen digital learning and coding in schools (see quote).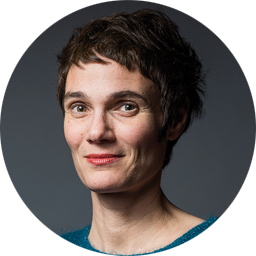 Hélène Chahine
Chief Delegate, Fondation CGénial (France)
The program Yes We Code!, created by the CGénial Foundation, helps pupils create digital projects based on ST's STM32 microcontroller family and connect them with industrial applications. One of the main factors in the success of the program is the commitment of ST's engineers, who provide training and technical support to teachers. Thanks to this partnership, we are strengthening the digital skills of secondary level students and opening their eyes, particularly for girls, to the diverse job opportunities in the electronics industry."
In line with our strong focus on developing activities to engage girls in science, we launched several activities in 2020. ST France cooperated with Elles Bougent, a voluntary organization which aims to encourage and support girls to pursue careers in technical fields (see Diversity and Inclusion Focus). In addition, our Ang Mo Kio site (Singapore) sponsored a three-year STEM outreach program named 'Girls2Pioneers', led by the United Women Singapore organization, with the aim of increasing the future representation of women in STEM fields.
As well as these programs, each year we welcome over 1,000 students for apprenticeships, internships and PhDs. This continued in 2020 despite the pandemic situation.
ST Foundation
The ST Foundation (see www.stfoundation.org) continues to bridge the digital divide between those who have access to modern technologies and those who do not. The Digital Unify program, started in 2003, has trained over 770,000 people in 26 countries since its inception. SDG 4.3
>770,000
people trained by ST Foundation since 2003
In 2020, our Foundation trained around 45,000 people, less than half of the usual number trained. This was due to the pandemic that stopped activities in most locations except for countries in Africa.
2020 was a challenging year, but it also provided an opportunity to evolve and rethink the Foundation's activities. The pandemic has reshaped lives everywhere with everything turning digital as remote work and distance learning skyrocketed. To quickly adapt to this new need, the Foundation boosted its collaboration with partners who could help it interact with the neediest beneficiaries. The resulting actions included:
donating equipment to underprivileged families for access to education
creating new courses and content for school teachers
creating an e-learning platform with new online courses, including video courses for seniors and computer basics for visually impaired people
To achieve this, ST provided a wide range of support to the Foundation, including:
cash donation of US$500,000
electronic and IT equipment
time donated by employees to develop new courses, especially by Italian and Indian volunteers
support from Corporate External Communications to maintain the Foundation's website and produce its annual report
Contributing to the Sustainable Development Goals
Our commitments and programs as described above contribute to:
SDG target 4.3 – Ensure equal access for all women and men to affordable and quality technical, vocational and tertiary education, including university.
SDG target 10.2 – By 2030, empower and promote the social, economic and political inclusion of all, irrespective of age, sex, disability, race, ethnicity, origin, religion or economic or other status.