ST products and solutions
ST delivers intelligent and energy-efficient products and solutions that power the electronics at the heart of everyday life. Our chips and systems are found in billions of products, from cars and factory machines, through washing machines and air conditioning systems, to smartphones and telecommunications equipment. Our technology helps our customers make all these products more intelligent, more energy efficient, more connected, safer and more secure. I 102-2 I
Our strategy is based on long-term trends: smart mobility, power & energy, Internet of Things (IoT) and 5G. We address four end markets – Automotive; Industrial; Personal Electronics; and Communications Equipment, Computers and Peripherals – where these trends drive the evolving requirements of our customers. I 102-6 I
Internet of Things and 5G
To support the needs of IoT and 5G, we provide a variety of products and solutions for embedded processing, connectivity, security, sensing and actuating.
STSAFE-A110 ecosystem for seamless security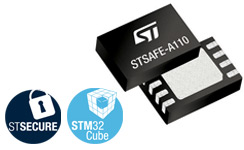 Security is critical for all connected devices and our offer covers the full range of secure solutions. These include software and hardware embedded in general purpose microcontrollers and microprocessors, supported by the STM32Trust ecosystem, which offers a multi-level strategy to enhance security.
We provide dedicated secure microcontrollers that meet the highest security standards. They can be found in smartcards used for ID, transport, banking and SIM cards, as well as pay TV applications.
Microsoft® Azure RTOS to enhance STM32Cube™ ecosystem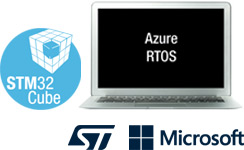 To enable embedded processing capabilities at the heart of every smart object, we offer general purpose microcontrollers, such as our STM32 family. This family has over 1,000 part numbers so designers can find the best solution for their application, whether they require ultra-low power consumption, high performance, artificial intelligence (AI), advanced security or a high level of wireless and wired connectivity.
We also offer a comprehensive development ecosystem that saves on design costs and reduces time to market. Recent enhancements include new features in our STM32Cube software-development ecosystem, the addition of seamless connection to Microsoft Azure RTOS, and AI software packages from partners.
New STM32MP1 Series @ 800MHz for industrial and IoT applications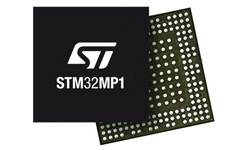 Our STM32 microprocessor family addresses demanding Industrial and IoT applications that require support for large open-source software. In 2020, we added to our offer new products that deliver more performance in audio and video, more powerful AI capabilities, and a better user experience.
Bluetooth 5.0 network processor boosts speed, scalability, and security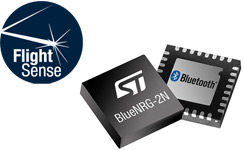 Our wireless connectivity solutions include STM32 microcontrollers with embedded wireless, standalone RF transceivers, and network processors for Bluetooth, Bluetooth Low Energy, Zigbee, Thread and sub-1GHz long-range networks. We work with partners to make it easier for our customers to use the services with Cloud connectivity software.
In 2020, we introduced the world's first LoRa® System on Chip for long-distance wireless connection to the IoT. We also acquired companies (for more information, see Innovation) in the wireless IoT space to build a complete wireless microcontroller portfolio for many IoT and industrial applications.
High-accuracy industrial inclinometer with advanced embedded functions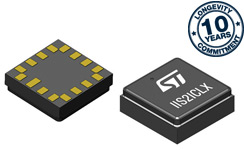 ST motion and environmental MEMS and sensors offer customers increased accuracy and sensitivity, with ultra-low power consumption. Our products power flagship personal electronics devices and help deliver the best user experience. We are present in many automotive and industrial applications, with products designed to meet the performance and reliability requirements of harsh environments.
Time-of-Flight sensors assure social distancing and enable touchless solution
Our patented FlightSense™ technology, based on the Time-of-Flight (ToF) principle, ensures a high-accuracy, low-power and all-in-solution for proximity and ranging sensors for personal electronics and industrial applications, as well as 3D sensing for smartphones and smart driving (LiDAR) features.
Our ToF sensors are integrated into devices that can help protect our health, ensuring both social distancing and touchless interaction. They can help users avoid contact with surfaces located in high-traffic areas, including self-service touchscreens, smart faucets, and push-button door openers.
ST Real-Time PCR molecular technology enables detection of genetic materials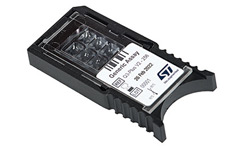 Our innovative thin-film piezoelectric micro actuators ensure higher efficiency and lower costs for traditional applications such as inkjet printing, while enabling innovation with MEMS speakers, micromirrors and fluid dispensing technologies. Our MEMS technology also supports medical applications, such as the tiny disposable cartridges used in a portable point-of-care molecular diagnostic detection instrument recently introduced to the market by one of our customers.
Power and energy management
Our technology and solutions for power and energy management enable customers to increase energy efficiency everywhere and support the use of renewable energy sources.
STM32 Digital Power Ecosystem for beginners up to experts
In 2020, we created a digital power ecosystem that brings together resources to create innovative digital power supplies using STM32 microcontrollers. It includes embedded software, development kits, demo boards, and tools, with training delivered by specialist partners.
High-power IPMs for Industrial and Automotive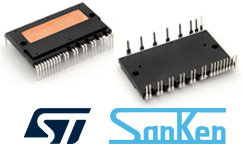 We offer power discrete devices serving applications across our end markets. Our SiC and GaN power devices deliver efficiency and enhanced performance in automotive, industrial, and communications infrastructure applications. Other products are first choice solutions for high-end power conversion, home appliances, power supplies, and motor control.
Digital power-supply controllers for interleaved boost-PFC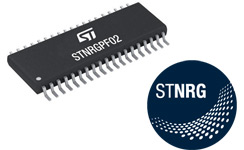 We address applications that require generic and application-specific solutions for power management. Our solutions enable energy-saving, high-power-density and lower-standby-power designs. Our offering includes Silicon Carbide (SiC) and Gallium Nitride (GaN) power discretes, Silicon MOSFETs, IGBTs and customized power modules, AC-DC and DC-DC converters, battery management ICs, wireless power ICs, digital controllers, and gate drivers.
We provide an array of motor control solutions that enable motors to run with higher efficiency and greater precision. We cover the requirements of brushed DC motors, stepper motors and brushless DC motors over an extensive range of voltage and current ratings.
New STSPIN32 plug-and-play boards jumpstart cordless power-tool designs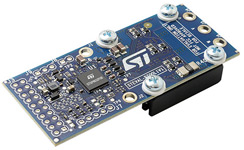 Our STSPIN motor drivers embed all the functions needed to drive motors efficiently and with the highest accuracy. They include a low-voltage series designed for battery-powered smart devices, and a series embedding an STM32 microcontroller. We also provide tools and software for the STM32 in an integrated development environment to ease the design of motor control solutions.
Smart mobility
To meet the smart mobility needs of our global customer base, we provide products and solutions that serve the key trends in the automotive market – vehicle digitalization and electrification. We enable them to create the next generation of vehicles that are safer, greener and more connected.
Silicon Carbide solution for EVs and charging stations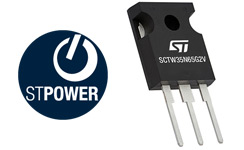 Our Silicon Carbide (SiC) solution for electric vehicles (EVs) and charging stations enables our customers to create electric cars with longer range, that charge faster, and have a lower weight. We provide high-efficiency smart power solutions and processors to ensure that every device used to power, control and monitor car subsystems consumes less energy.
Innovative and powerful Integration MCU for next-gen automotive architecture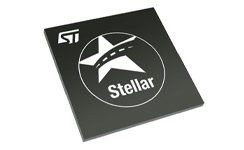 For car digitalization, we offer our automotive microcontroller families, which range from cost-sensitive to highly advanced applications.
New battery-management product
For car electrification, we offer a range of products to support battery energy management and efficient energy conversion inside the vehicle.
In 2020, we introduced a new battery-management product line that increases the reliability, safety, driving range, and cost-effectiveness of EVs.
Advanced Driver Assistance Systems (ADAS)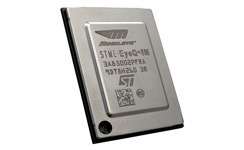 We work with partners such as Intel-Mobileye and Autotalks to provide ADAS solutions that make driving safer by reducing road accidents. The products we supply include cutting-edge RF and vision systems, as well as advanced vehicle communications solutions.
AutoDevKit™ ecosystem eases prototyping automotive ECUs
We offer ICs dedicated to body and convenience solutions, including body control modules and car lighting systems, as well as ASIC and ASSP solutions for engine control. Our in-vehicle infotainment systems cover everything from high-end integrated platforms and digital radio to audio power amplifiers.
In 2020, we introduced new tools to assist the development of the numerous electronic control unit (ECU) systems in today's vehicles. AutoDevKit library is a software tool that allows users to select the microcontrollers and functional boards from our wide automotive portfolio to easily prototype their solution.