Sustainability strategy
A sustainability strategy focused on priorities
Focusing on what really matters for ST and our stakeholders is the cornerstone of our sustainability strategy. Not only does stakeholder feedback support our transformation programs related to our own processes and culture, but it also supports our development of new technologies, products, and applications. We are convinced that our technologies have a key role to play to overcome global environmental, social, and societal challenges, and to ensure a more sustainable future.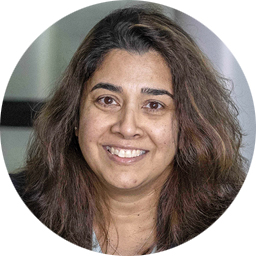 Rajita D'Souza
President, Human Resources and Corporate Social Responsibility
Embedding sustainability practices in our Company strategy is essential to our people, our business, and society at large. As a leading global company, we must embrace our role to minimize our consumption of resources, maximize value creation and partner with all our stakeholders. As the new Human Resources and Corporate Social Responsibility President, I am counting on everyone's contribution to accelerate sustainability, together."
Three-step
materiality exercise
To better understand the needs and expectations of our stakeholders, in 2020 we conducted a new materiality assessment. This included a comprehensive analysis of industry issues, the Responsible Business Alliance sensing exercise, international reporting standards, peer benchmarks, extra-financial questionnaires, and broader sustainability megatrends. The outcome enabled us to create a pool of more than 90 topics that were most relevant to our Company and our stakeholders. We reviewed all topics and consolidated the most important ones into a list of 42.
To assess the importance of the topics for our stakeholders, we collected 344 survey results from our nine categories of stakeholders (see Stakeholder Engagement). We also invited our top leaders to rate each topic according to its impact – positive or negative – on the social, environmental and economic value of ST. We then asked our sustainability experts to evaluate the level of maturity and margin for improvement for each topic. After an in-depth analysis of the results, we selected the highest priorities and combined some of them, to end up with a final selection of 14 material topics. For each material issue, we have a specific ambition and long-term goal. The related programs and performance for these are described throughout this report. I 102-46 I
Material topics
I 102-47 I 103-1 I
Materiality matrix
Environment
Air pollution
Governance
Business continuity
Communities
Community involvement
Business
Customer satisfaction
Governance
Data protection & privacy
Partnerships
Access to IT
People
Diversity & inclusion
Environment
Energy efficiency
People
Fair wages & benefits
People
Freedom of association & social dialog
Environment
GHG emissions
People
Job creation & employment
Not priority*
Product use risk
Communities
Promoting science in education
Environment
Renewable energy
Communities
Responsible procurement
Business
Responsible products
Communities
Responsible minerals sourcing
Governance
Risk management
Business
Financial performance
People
Talent attraction & retention
Environment
Up & downstream GHG emissions
Environment
Waste & circular economy
Environment
Water efficiency
Environment
Water recycling
People
Women in leadership
Not priority*
Diverse suppliers
Not priority*
Public affairs & industry networking
Not priority*
Biodiversity
Not priority*
Technology impact risk
*Not a strategic priority but some programs in place
Interview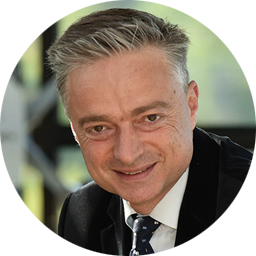 Jean-Louis Champseix
Group Vice President, Corporate Sustainability
How did the COVID-19 pandemic impact ST's sustainability practices?
The crisis reinforced our sustainability practices. It again demonstrated the role of sustainability as a driver of resilience, agility, and competitiveness.
Our business continuity preparedness enabled us to face the pandemic with a high sense of urgency and in line with our principles: protect people at any cost, while ensuring business continuity. People are at the heart of our sustainability strategy and our employees demonstrated a high level of engagement and solidarity. This helped us maintain our operations and continue to serve our customers, while at the same time donating to medical institutions in our local communities.
How did ST's sustainability strategy evolve in 2020?
Managing the pandemic crisis effectively gave us the opportunity to accelerate our sustainability commitments and programs.
In 2020, we refreshed our sustainability strategy through a full materiality assessment, as outlined above. This assessment plays an important role in strengthening the integration of sustainability into our business. The top three material topics that emerged from this exercise reflect the challenges facing society as a whole: health and safety, human rights and greenhouse gas emissions. We have updated our strategy, started to accelerate our efforts on all priority topics and upgraded our roadmap for the coming years.
We also updated our ambitions for the next seven years. In 2021, a new Sustainability Charter will replace our previous 2014-2020 Decalogue.
In alignment with our ambitions, in 2020 we integrated specific sustainability objectives into our senior executives' compensation scheme, focusing on four key priorities: safety, climate change, gender diversity, and employee engagement. In 2021, we plan to extend the practice to the 19,000 employees eligible for short-term incentives.
Commitment to be
by 2027
What are the next challenges for ST?
Beyond the pandemic, climate change remains the biggest global economic and environmental challenge. Despite the situation in 2020, we advanced our sustainable development objectives and developed a roadmap to become carbon neutral by 2027. This is an important step in our commitment to combat climate change – a global battle that requires collective action.