Innovation
Innovation & Profits
Our Ambition
Sustain profitable growth, with clear and focused leadership objectives in the four end markets we address.
2025 GOAL
>20%
of revenues generated by new product lines
202015.4%
ST is a technology company driven by innovation. Our technology developments are guided by the long-term market trends enabling or enhancing applications for the end-user by turning state-of-the-art chip fabrication technologies into cutting-edge commercial products. To support innovation, we invested US$1.55 billion in research and development (R&D) in 2020, representing 15.2% of our net revenues.
We create a funnel of innovation that allows us to develop the market-leading products and solutions that fuel our future growth. It enables us to continue pushing the boundaries of disruption in technologies and applications, in line with our strategic objectives. I 103-1 I
US$
1.55 billion
invested in R&D
Our innovation capability has been enhanced by a new ST Innovation Office (see quote) tasked with creating more external and internal innovation opportunities and connecting emerging market trends with our internal technology expertise. This will enable us to identify opportunities, be ahead of the competition and lead in new or existing technology domains. I 103-2 I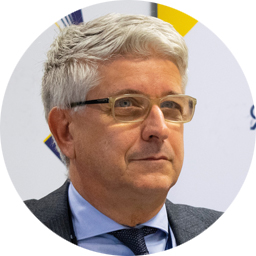 Alessandro Cremonesi
Chief Innovation Officer, Innovation Office
We created an Innovation Office in 2020 to sustain, stimulate, facilitate, and coordinate the process of continuous innovation within ST, in line with our strategic objectives. Innovation is a collaborative task requiring the best of collective intelligence to succeed. To enhance our ability to assimilate and generate innovation, we are improving the exploration and transformation phase of the innovation process, increasing both internal and external scouting and cooperation capabilities."
Leading-edge technology
ST is currently well positioned in disruptive technologies and applications. We are focused on bringing to market disruptions that have been enabled by our past investments. We leverage our process technology to create opportunities to penetrate new markets, form new partnerships or acquire new competencies.
Process technology
Thanks to our wide portfolio of patents and strong pipeline of innovation, today we are one of the few semiconductor companies mastering a very broad range of chip fabrication technologies.
Acquired majority stake in Exagan
a French GaN epitaxy innovator
Among these technologies, Gallium Nitride (GaN) technology is part of our strategy to invest in wide bandgap technologies, complementary to Silicon Carbide for power devices. In 2020, we acquired a majority stake in the French GaN innovator, Exagan, whose expertise in epitaxy, product development and application know-how will broaden and accelerate our power GaN roadmap and strengthen our business for automotive, industrial and consumer applications. We also started the epitaxy step of the 200mm GaN line in our Tours site (France).
During the year, a technology breakthrough, combining embedded phase change memory (e-PCM) with the advantages of 28nm FD-SOI technology and advanced packaging, enabled us to develop a new automotive microcontroller product line, called Stellar, in partnership with our customer, Bosch. It provides advanced connectivity and security features to support the transition to service-oriented automotive systems.
Application technology
Acquired
RF and wireless
connectivity companies
In 2020, to complement and strengthen our STM32 microcontroller offer, we acquired companies and assets focused on radio frequency (RF) and wireless connectivity: Riot Micro for its expertise in low-power cellular IoT; BeSpoon, which specializes in ultra-wide-band connectivity; and SOMOS semiconductor, which specializes in silicon-based power amplifiers and in RF front-end modules (FEM). Acquiring these companies and integrating them into our business will enable ST to provide all IoT connectivity system-on-chip solutions and accelerate our time to market for our STM32 portfolio (see Focus).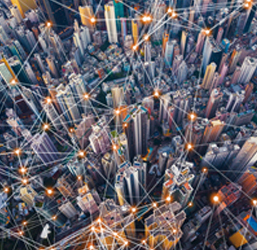 Focus
Strengthening our RF and wireless connectivity capability
Today, ST offers reference designs to serve the global embedded connectivity market. To enhance the range of connectivity standards we offer, in 2020 we acquired Riot Micro, BeSpoon and SOMOS semiconductor.
Riot Micro designs cellular IoT solutions, applying proven techniques from Bluetooth Low Energy to create narrowband IoT solutions optimizing system cost and power. The integration of cellular communication capabilities into the STM32 microcontroller portfolio will strengthen our offer for customers developing applications such as asset tracking, metering, and fleet management services for the industrial market.
BeSpoon technology enables secure real-time indoor location with centimeter accuracy even under adverse conditions. The integration of this secure positioning technology in the STM32 portfolio will enable developers of IoT, automotive and mobile communication applications to provide services such as secure access, and precise indoor and outdoor mapping.
With the SOMOS acquisition, we have reinforced our specialist staff, IP and roadmaps of front-end modules for the IoT and 5G markets.
In the increasingly important field of artificial intelligence, we capitalize on synergies between our microcontrollers, sensors, and automotive application groups. Leveraging this expertise, in 2020 we demonstrated a prototype IoT sensor that enables new building management services and efficiency gains by understanding building occupancy levels and usage for our customer, Schneider Electric.
Innovation ecosystem
The innovation process begins with an exploration phase that enlarges our funnel of opportunities, combining internal know-how with external sources of innovation and partners. I 102-12 I
External scouting for technology
Recognizing the importance of partnerships in the innovation process, we build strategic alliances, engage in bilateral research cooperation, and participate in standardization groups. Overall, we were involved in 143 active R&D partnerships in 2020.
143
active R&D partnerships
Our ST Partner Program provides our partners with the ecosystem needed to help them reduce development effort and accelerate time to market. The program continues to grow, reaching 292 members in 2020 (see www.st.com/partner-program). I 103-3 I
We are also members of many industry associations. In 2020, we joined Silicon Catalyst, an incubator focused on accelerating solutions in silicon, to expand our network of contacts investigating innovative IP and to be involved in discussions around industry standards.
We also launched a 'Lab-in-Fab' in collaboration with the Institute of Microelectronics at Singapore's Agency for Science, Technology and Research (A*STAR) and ULVAC, a leading Japanese vendor of manufacturing tools. This 'Lab-in-Fab' R&D line brings together three partners with leading-edge and complementary competencies in piezo materials, piezo MEMS technologies, and wafer-fab tools. The objective is to boost innovation and accelerate development of new materials, process technologies, and ultimately, products.
Working with startups
We are involved in a number of initiatives to support electronics-related startups in various locations relevant to our business. These initiatives are tailored to address the typical challenges faced by startups and to drive mutually beneficial collaboration.
In the early stages, we provide support to external innovation and co-working spaces called Proof of Concept (PoC) centers, spread across countries where we operate. The aim is to help innovative small businesses and startups speed up their proof-of-concept phase. Including the new centers opened in 2020, such as ComoNext in Italy, we now support 15 PoC centers.
Later in the startup journey, we provide tailored incubation services, including hosting, technical support, and mentoring, through our 'Innovation Booster' program. Since its inception, the program has incubated more than 30 companies in France and India and we are now extending it to other countries.
Furthermore, we have an accelerator program, ST-UP, for technology startups. This is an 18-month, five-step program to support startups which have cutting-edge technology that can complement or augment existing ST solutions. The program was launched in Israel in 2018 and is now replicated in other countries, including France and Italy. It has so far accelerated more than 10 startups and is currently working with a further three (see www.st.com). I 103-3 I
Internal technology expertise
~750
technical staff, including 32 Fellows
Around 8,100 ST employees work in R&D and product design. This includes nearly 750 members of our technical staff who are recognized for their advanced expertise. Within this community, we have 32 Fellows and nine Company Fellows, with three new Company fellowship nominations in 2020.
Our experts are extending their role and exposure by working closely with our Innovation Office and Fellows Scientific Committee. This community drives our most advanced innovation, enabling us to develop new technologies and helping to foster R&D partnerships with prestigious universities and partners worldwide.
Our sites around the world are also helping to nurture the entrepreneurial spirit of our employees through local innovation labs and hubs that help to connect our technical experts within the local ecosystem. We now have seven labs, with three new labs opened in 2020: the Acelab at our Tunis (Tunisia) site, and two Opus labs in Castelletto (Italy) and Catania (Italy).
In 2021, we plan to launch a global internal innovation challenge, open to all employees, which will include sustainability topics.
Contributing to the Sustainable Development Goals
Our commitments and programs as described above contribute to:
SDG target 9.5 – Enhance scientific research, upgrade the technological capabilities of industrial sectors, and increase private research and development spending.